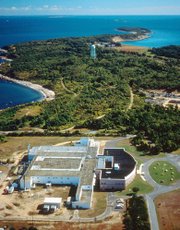 Greenport, N.Y. — It has been the subject of novels, a reference in movies and the topic of speculation ever since it became an animal disease lab in the infancy of the Cold War.
Now, the public is being asked for its input on what should become of the mysterious island a mile and a half off Long Island's north fork. The federal government is moving its research operations to a new lab in Manhattan, Kan., and putting up a "For Sale" sign at Plum Island.
Representatives from several environmental groups spoke out against the planned sale Thursday night at a meeting held by the General Services Administration, which has responsibility for selling the property. The agency had the community meeting in a school gymnasium eight miles from the island, kicking off an environmental review process that is expected to be completed by the fall.
"The island has a remarkable environmental and ecological value," said John Turner, who said he represented a coalition of civic groups calling themselves "Preserve Plum Island."
New lab in Kansas
Last year, Congress appropriated $32 million for a new 520,000-square-foot National Bio and Agro-Defense Facility in Kansas, most of it for planning and design. It will allow research on diseases that can be passed from animals to humans, something currently not done at Plum Island.
A safety study of the new site is under way after some questioned the wisdom of opening an animal disease lab in the so-called Beef Belt.
Randy Parsons of the Nature Conservancy drew applause from the estimated 50 people at the meeting when he suggested of the Plum Island site, "If we didn't already own it, wouldn't we want to buy it?"
Besides the laboratory, the island is home to a defunct U.S. Army base and a charming little lighthouse that looks out onto Long Island Sound. And, as fictional FBI Agent Clarice Starling told "Silence of the Lambs" villain Hannibal Lecter: "There's a very, very nice beach."
Author Nelson DeMille, whose 1997 book "Plum Island" featured a fictional detective investigating the murders of island biologists, told The Associated Press this week he wants the government to retain ownership.
"The most obvious thing to do would be to make it into a federal park and nature preserve," he said. "You could turn the lab into a visitors center."
Several speakers at the hearing also said they preferred the island be retained as a nature preserve, including a representative of the Audubon Society, who urged a thorough study of the bird population.
DeMille noted a long-repeated fear that the lab could be "a terrorist target waiting to happen."
The U.S. Government Accountability Office told Congress in 2007 that Plum Island's vulnerability was apparent after the 9/11 terror attacks, and that security had been tightened to help protect animal health and reduce the possibility of bioterrorism.
Research on diseases
Plum Island scientists research pathogens like foot-and-mouth disease, which is highly contagious to livestock and could cause catastrophic economic losses and imperil the nation's food supply.
"Other pathogens known to have been maintained at Plum Island could also cause illness and death in humans," the GAO said.
Security on the island consists of security patrols, checkpoints, cameras, radar, locks and fences, said Amy Kudwa, a spokeswoman for the Department of Homeland Security.
Ret. Col. David Huxsoll, a veterinarian who served as the lab's director from 2000 to 2003, said anthrax was among the diseases studied at Plum Island. "It was done in containment," he said, adding there were concerns anthrax could be used as a weapon to target the livestock industry.
"If it ever broke out in the cattle industry in this country, it would be disastrous," he said.
Copyright 2018 The Associated Press. All rights reserved. This material may not be published, broadcast, rewritten or redistributed. We strive to uphold our values for every story published.