For 10 years the barn at Zimmerman's Kill Creek Farm has been a lot of things to a lot of people. It was a place for reuniting families to come together. A place for a man and woman to be united in matrimony. A place to get fresh vegetables from local farmers. A place to bring your children to pick the choicest pumpkins for carving.
But after Wednesday night's storm, the De Soto landmark is no more.
"There is literally no hope for this (barn)," Darrel Zimmerman, owner of Kill Creek Farm, said. "I always figured the barn would outlast me."
Dee Mandich, Zimmerman's daughter, was at the home next to the barn about 11:20 p.m. Wednesday, when high winds hit the area around Kansas Highway 10 and Kill Creek Road.
"The whole house was shaking," she said. "It sounded like the end of the world."
In 2000, Zimmerman and a group of community volunteers began tearing down, transporting and then rebuilding a 120-year-old barn from Gardner.
For the next five months, the group worked hard to restore the barn.
"Even though I own the property, the barn belonged to the community," he said. "It was the community that restored the barn."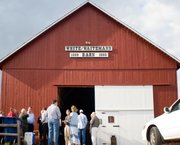 Mandich began calling people who had reserved the barn for a special occasion to inform them what had happened. The barn had been rented each weekend for the next nine weeks for weddings, reunions or graduation parties. Zimmerman was especially upset that an organization raising money to combat cystic fibrosis was going to auction off the use of the barn in a fundraiser, but now they would have to be taken off the auction list.
Throughout the day Thursday, a steady stream of people from the community stopped by to survey the damage and to check on the family and see whether there was anything they could do.
"It's just devastating to the community," said Mitra Templin, a De Soto City Council member. "It was something that we all took pride in."
A sign-up sheet was started for people wanting to help in the cleanup and possible restoration of the barn.
Copyright 2018 The Lawrence Journal-World. All rights reserved. This material may not be published, broadcast, rewritten or redistributed. We strive to uphold our values for every story published.