Leavenworth — Before the first visitors arrived Saturday at the 2010 Kansas Sampler Festival, organizers were touting the event as the biggest and best yet.
With more than 300 vendors and exhibits from approximately 140 Kansas communities, Leavenworth's Ray Miller Park was full of life during the first day of the festival.
This year's Kansas Sampler was the first countywide festival in which the cities of Leavenworth County participated. Leavenworth, Basehor, Tonganoxie and Lansing sponsored the festival and had individual booths for people to learn more about what each city has to offer.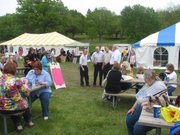 Aside from the city booths, visitors were able to enjoy live entertainment from Kansas artists and musicians, grab a bite from the smorgasbord of food stands and travel from tent to tent eyeing state-made products.
"We've been having a great time," Leavenworth resident Karen Rowland said Saturday at the festival. "The skit we saw when we walked in was really good, and all the booths are great. It's all the usual, fun festival stuff."
How it started
For more than 10 years, the Kansas Sampler Festival has traveled statewide to give residents and tourists great food, friendly people and loads of Kansas knowledge.
Penner Farm in Inman was the site of the festival's debut. The Sampler attracted people to Inman for eight years, and in 1998, the festival was on the move.
Pratt housed the event in 1998, followed by Ottawa, Independence, Newton, Garden City and Concordia.
The festival stays with each venue for two years, then rolls to another location.
"This festival is really an opportunity for people to see how special Kansas is as a state," said Bob Topping, president of the festival's steering committee.
Leavenworth County will play host to the festival once more May 7 and May 8 in 2011.
Karen and her husband, Larry, said one of the most pleasant parts of their festival experience was interacting with people visiting and working at the event.
"Everyone has such a nice attitude," Larry said. "Leavenworth has some really wonderful people."
Commending the edible aspects of the Kansas Sampler were Olathe residents Page and Jack Jennings. They found a picnic table to relax, listening to Don Spain and the True Country Band while nibbling on a pork chop on a stick from Pachta Pork of Belleville.
"This is so good," Page said of her snack.
The Jenningses also said they appreciated all the Sunflower State information showcased throughout the event.
"We've really learned a lot today," Jack said. "We were surprised how much we learned."
The festival will continue from 10 a.m. to 4 p.m. today in Leavenworth.
Visitor parking is on the Veterans Affairs Medical Center grounds and in several businesses' parking lots along Kansas Highway 7, including K-mart, Central Bag Company and Sears at Leavenworth Plaza. Shuttles run throughout the day, bringing people to the festival and back to their parked cars.
Admission is $5 for adults and $3 for children. Ages 6 and under are free.
For more information, visit kansassamplerfestival.com.
Copyright 2018 The Lawrence Journal-World. All rights reserved. This material may not be published, broadcast, rewritten or redistributed. We strive to uphold our values for every story published.