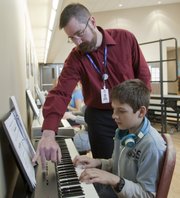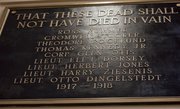 Related document

Teacher Innovation Grants 2010 ( .XLS )
Students in Central Junior High School teacher Kevin Hart's music explorations class were working quietly on their keyboards Tuesday morning when some surprise visitors entered the room.
Principal Anna Stubblefield and Susan Esau, executive director of the Lawrence Schools Foundation, notified Hart he would receive a $1,900 grant to commission a composer to write a piece of choral music about the history and culture of the Liberty Memorial Building, which houses Central.
"I honestly didn't know if something like this would go through," Hart said. "I know it's competitive out there right now because of budget cuts."
Esau and program coordinator Stacy Riggins traveled to Lawrence schools Tuesday notifying winners of a total of $15,850 in teacher innovation grants. The foundation raises money for Lawrence district programs and grants.
Award winners
In addition to Kevin Hart at Central Junior High, the Lawrence Schools Foundation has awarded teacher innovation grants to:
• Loralea Wood, a special education teacher in the district's early childhood programs, for $1,600 to purchase large blocks for eight pre-kindergarten classrooms to help students gain more skills in social/emotional, physical and cognitive development.
• Katie Mullins, of Hillcrest, and Landon Harness, of the Boys and Girls Club of Lawrence, for $3,000 to purchase a robotics lab to inspire interest in science, math, engineering and technology-related skills.
• Pat Wittry, Christina Nelson, Megan Hurt, Gerald Denning and Rosina Aguirre, of Lawrence High School, for $3,000 to purchase 50 electronic translators to help English as a second language students.
• Janelle Whisler, of Lawrence High School, for $850 to purchase materials and pay for community activities for the Breakfast Club of SPED students.
• Beth Maloun, Christine Wesley, and Kris Leggins, of Prairie Park, for $1,450 to purchase materials to create an environment that teaches social skills to students in an inclusive room.
• Liz Weslander, Christy McWhirt, Lisa Clark and Lindsey Vail, of Schwegler, for $1,400, to purchase materials for take-home literacy bags to increase literacy skills and encourage parental involvement.
• Scott Robinson, of South Junior High, for $600 for tutors who will be paid to work with seventh- to ninth-grade band students to learn music to audition for the Kansas John Philip Sousa All-State Band.
• Southwest Junior High Principal Trish Bransky and Central Principal Anna Stubblefield along with Angie Dieker and Jackie Stafford, two current learning coaches, for $2,050 to provide professional development to assist educators in school reconfiguration. This funding is contingent upon the school board approving moving ninth-graders to the high schools and sixth-graders into middle schools.
Hart applied for $1,900 to commission Lawrence composer Andrea Ramsey to write a piece of music to honor the 19 Lawrence students and high school graduates who died in World War I.
The idea came to Hart last year as he sat in the auditorium during concerts and noticed the memorial above the stage. He wants it to be a schoolwide effort for English and social studies students to do research. The choir would perform the music during a December concert.
"I don't think many students know the history of this building," Hart said. "The greater part of this grant is also going to be that students are going to be doing research on these 19 soldiers."
Esau said the foundation's board chose innovative projects that will contribute to student enrichment.
"A lot of our teachers will do them anyway and pay for these things out of their own pockets," Esau said. "So what we're trying to do is help these teachers do the things they want to do for their kids."
The grants come at a tough time for Kansas public schools because of the state's budget crisis. The Lawrence school board has voted to implement $4.6 million in cuts for next school year.
The foundation board has also decided to use $9,500 from a surplus in 2009 fundraising to restore some school district cuts to fine arts programs, mostly for students to attend performances and events throughout Lawrence and at Kansas University.
Copyright 2018 The Lawrence Journal-World. All rights reserved. This material may not be published, broadcast, rewritten or redistributed. We strive to uphold our values for every story published.