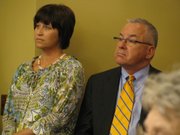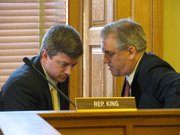 Related document

Investigative Committee Report ( .PDF )
Topeka — An investigative committee Tuesday dismissed a misconduct complaint against House Speaker Mike O'Neal, R-Hutchinson, but urged repeal of the law that allowed O'Neal to file a lawsuit against the state.
O'Neal said the decision vindicated him. "It's the outcome that should have happened," he said.
But House Democratic Leader Paul Davis of Lawrence, who filed the complaint against O'Neal, said the committee's recommendation to change the law shows that O'Neal's conduct "should not be permitted."
The dispute was over O'Neal filing a lawsuit on behalf of some businesses, trade groups and insurance funds in a lawsuit that challenged action by the Legislature last year to sweep their fee funds in state accounts to help balance the state budget.
O'Neal voted against the sweep, and filed an official protest -- requirements necessary for him to bring the lawsuit.
Democrats said O'Neal, who holds the most powerful position in the House, created a conflict of interest by leading the lawsuit against the state.
After Davis, and other House Democrats, filed a complaint on March 12, a select committee was appointed for the first in-House probe in nearly 60 years.
After several meetings, the committee, composed of three Republicans and three Democrats, met in closed session for two hours Tuesday and emerged with its report.
Before a packed committee room, including O'Neal and Davis, state Rep. Jeff King, R-Independence read the report out loud. The committee then unanimously adopted it by voice vote.
King said O'Neal violated no law or House rule. But he then added that the statute allowing attorney-legislators to challenge in court the constitutionality of a legislative action "is troubling."
The report says the law leads to the appearance of impropriety and cast a shadow on the House. The committee recommended that changes be made in the law and that the House adopt a code of ethics for guidance in the future.
The committee also said it doesn't condone litigation filed by legislators against the state.
Davis said he hoped the committee report would persuade O'Neal to step away from the lawsuit, but O'Neal said he plans to pursue the litigation.
Copyright 2018 The Lawrence Journal-World. All rights reserved. This material may not be published, broadcast, rewritten or redistributed. We strive to uphold our values for every story published.