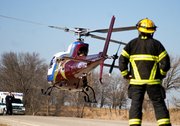 Leavenworth County — A middle-aged man was taken by air ambulance to Kansas University Hospital in Kansas City, Kan., after a serious accident in Leavenworth County on Thursday afternoon.
According to the Kansas Highway Patrol report, Jeffery Kaighin was driving a red GMC pickup truck north on County Road 25 when, for an unknown reason, his vehicle left the roadway and hit a tree on the west side of the road.
The man was trapped in his vehicle, and Stranger Creek Township and Tonganoxie City fire crews spent 40 minutes extricating him from the vehicle.
According to law enforcement officials, the man was responsive and suffering from moderate injuries when he was loaded onto the Life Star helicopter.
Copyright 2018 The Lawrence Journal-World. All rights reserved. This material may not be published, broadcast, rewritten or redistributed. We strive to uphold our values for every story published.