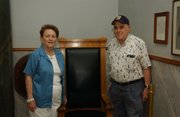 Leavenworth — Even empty, the oak chair looks imposing.
Its high back covered with a yard of black leather and the architectural detail of its top rail combine to give it authority.
The chair was literally the seat of justice in Leavenworth County for decades. Generations of judges sat in the chair on the second floor of Leavenworth County Courthouse, from its opening in 1912 to its remodeling at the beginning of the 21st century.
The chair was very likely part of the $14,000 in furniture reported in final accounting presented to the Leavenworth County Commission upon the courthouse's completion in 1913, said Jean Will, of Leavenworth.
"As near as we can figure, just from the style and the oak, that is just about right — 1912 or 1913," she said.
One of the judges who sat in the chair, and whose hands contributed to the patina darkening its carved arms, was Will's father, Joseph J. Dawes. He sat on the Leavenworth County District Court bench from 1948 to the early 1960s, when he moved to the U.S. District Court in Topeka as a bankruptcy referee, as federal judges with that responsibility were then called, his daughter said.
Judge Dawes and his wife, Ruth, moved to Topeka for his new job, but his heart remained in Leavenworth, his son Ben Dawes said. Before the move to Topeka, the judge's only other prolonged departure from his hometown was the time he spent at college, at Notre Dame. There, he was a pitcher on the baseball team during the years Knute Rockne was going undefeated in football.
After his retirement from the federal bench, Dawes returned to Leavenworth. The chair was given to his family when the courthouse remodeling began near the start of the 21st century.
"It sat in their basement until my youngest sister graduated from law school," Will said. "It was in her office until she moved to Tucson. She didn't have room for it in her office there. Last year, she brought it back to me and said, 'Do something with it.'"
Will and her brother decided the place for the chair was back on the Leavenworth County Courthouse's top floor. The courtrooms and the judges' chambers have been moved across the street to the Justice Center, but the chair shares its new home with another relic of the county's judiciary history — a jury wheel used to select jury candidates from names on a voting list.
Leavenworth County Commissioner Clyde Graeber said he was delighted with the chair's return.
"This is where it ought to be," he said.
Copyright 2018 The Lawrence Journal-World. All rights reserved. This material may not be published, broadcast, rewritten or redistributed. We strive to uphold our values for every story published.