Jessica Bell returned to Kansas on Thursday with her mother, Linda Thompson, and her two young sons, James and Luke, in tow.
Bell, 32, will race in the K-Swiss Ironman 70.3 Kansas at 6:30 a.m. Sunday at Clinton State Park. It will be her second consecutive year competing, but this year will be different.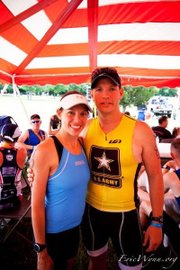 Last year she trained and ran in tandem with her husband, Lawson Bell, who was stationed at Fort Leavenworth at the time.
"It was lots of fun," she said. "The most fun was seeing each other on the run. The course does a few loops, so we'd pass by each other. He finished before I did and was able to greet me at the end."
Lawson Bell, an Army major, won't run this weekend with his wife and the more than 2,000 other local and national competitors. He's serving his second deployment in Iraq, but his wife said they talk almost daily.
He's been involved in her training for the 1.2-mile swim, 56-mile bicycle ride and 13.1-mile run.
Bell's become addicted to the races, and she said the training has helped her to be a better mother. The Bells now live in Fort Carson outside Colorado Springs, Colo.
Bell said she was able to keep up her training while James, 5, was in full-day preschool, and Luke, 2, was at day care. "I think you should be able to continue to do whatever it is you love and hopefully remain healthy," she said.
The K-Swiss Ironman 70.3 Kansas again this year will have a military theme, including an Armed Forces Challenge bracket.
Bell said she's hoping that when her husband returns, they will come back to Lawrence and race together next year. For this weekend, she can only concentrate on making him proud.
"It will be empty," she said, "but exciting."
Copyright 2018 The Lawrence Journal-World. All rights reserved. This material may not be published, broadcast, rewritten or redistributed. We strive to uphold our values for every story published.