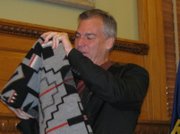 Topeka — Gov. Mark Parkinson and leaders of the Iowa Tribe of Kansas and Nebraska on Friday signed an agreement that will allow the tribe to issue its own license plates.
The memorandum of understanding allows the tribe to issue license plates and titles for vehicles owned by members of the tribe who live on the tribe's reservation within the state.
Under the agreement, the tribe will transmit to the state ownership and registration information for each vehicle it registers so that the information will be in the state's motor vehicle database.
Copyright 2018 The Lawrence Journal-World. All rights reserved. This material may not be published, broadcast, rewritten or redistributed. We strive to uphold our values for every story published.