134th and Meriden Road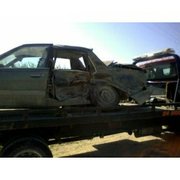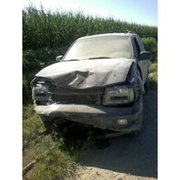 A third child has died from injuries she received in a two-vehicle accident Wednesday morning in northwestern Jefferson County, according to the Kansas Highway Patrol.
Trooper Tim McCool said 4-year-old Madelynn Spencer died Thursday afternoon at Children's Mercy Hospital in Kansas City, Mo. Eight-year-old Katelynn Spencer and 5-year-old Alissa Spencer died Wednesday, after the accident at 134th Street and Meriden Road.
About 7:50 a.m. Wednesday, Stephanie Spencer was driving a 1996 Oldsmobile east on 134th Street when it collided with a 2002 Chevy TrailBlazer traveling south on Meriden Road. Spencer was taken to Stormont-Vail Regional Health Center in Topeka, where she remained on Thursday.
The driver of the TrailBlazer, Robert Hutchins, 27, of Valley Falls, was treated and released Wednesday from Stormont-Vail.
According to KHP, none of the Spencers was wearing a seat belt.
Officials at the scene said weeds growing near the intersection may have created a blind spot for drivers. Witnesses said Spencer did stop at the stop sign at the intersection and investigators found evidence to support those reports. Traffic on Meriden Road does not have a stop sign at the intersection.
Copyright 2014 The Lawrence Journal-World. All rights reserved. This material may not be published, broadcast, rewritten or redistributed. We strive to uphold our values for every story published.