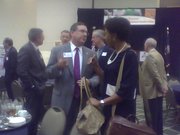 Former Gov. John Carlin remains chairman of the Kansas Bioscience Authority, having been re-elected to the post by the organization's 11-member boad of directors.
The election led off the board's two-day annual meeting, which itself followed a stakeholders luncheon attended by more than 300 people. The crowd included a number of people from Lawrence, including KBA board member Dan Watkins; KU Chancellor Bernadette Gray-Little; and Sam Campbell, leader of CritiTech.
Also reelected Monday: Ray Smilor, vice chairman; and Sandra Lawrence, secretary/treasurer.
The meeting is at the Overland Park Sheraton.
Copyright 2018 The Lawrence Journal-World. All rights reserved. This material may not be published, broadcast, rewritten or redistributed. We strive to uphold our values for every story published.