Topeka — U.S. Sen. Sam Brownback, R-Kan., who is running for governor, said Friday that growing the state's economy is his top priority.
"Job one is jobs," Brownback said to more than 100 people gathered at the Topeka Country Club for a Kansas Chamber forum.
Brownback said low taxes and an open regulatory structure are necessary. "We've got to look more like Texas and a lot less like California," he said.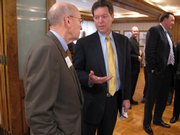 When asked if that meant allowing private prisons and more toll roads, as Texas has done, Brownback said, "We have to look at innovative solutions that fit and work."
Brownback steered clear of the current legislative debate over taxes and cuts during the 2010 session. "We will come out with a detailed roadmap after the legislative session," he said. He added, "We are not going to be able to tax or cut our way out. We have to grow our way out."
Last year, state legislators and Gov. Mark Parkinson, a Democrat, cut nearly $1 billion from a $6.4 billion budget. Still, legislators face a $400 million revenue shortfall. Parkinson has proposed tax increases, but Republican legislative leaders have balked.
Earlier at the Chamber forum, Republican legislative leaders spoke at length about the need for consolidation of local government units and school districts to save money. But when asked about consolidation, Brownback said, "I'm not for forcing it."
Brownback is the only major candidate in the gubernatorial race. Parkinson has said he will not run. Two earlier possible Democratic candidates either declined or dropped out. State Sen. Tom Holland, D-Baldwin City, has said he is considering the race.
As far as what is happening in Congress, Brownback said the so-called "cap-and-trade" energy bill is dead in the Senate, but that the Obama administration will seek to regulate carbon dioxide emissions through the Environmental Protection Agency.
He said the Democratic health care reform bill is on the ropes and that polls show the public has turned against it. He also said the election in Massachusetts of Republican Scott Brown as senator was like "a neutron bomb went off in Washington."
He said the primary goal of the Kansas delegation this year is to get funding for the National Bio and Agro-Defense Facility to be built in Manhattan and the awarding of a contract for an air refueling tanker contract for Boeing.
Copyright 2018 The Lawrence Journal-World. All rights reserved. This material may not be published, broadcast, rewritten or redistributed. We strive to uphold our values for every story published.