Topeka — A House committee on Monday recommended approval of a bill to ban K2 despite a statement from an Overland Park woman who said that smoking the herbal mixture has made her chronic illness bearable.
Aubry Gabbard, 18, said because of her family health history, she likely suffers from multiple sclerosis. In a letter to the House Corrections and Juvenile Justice Committee, she said she has needed help with every basic aspect of her life.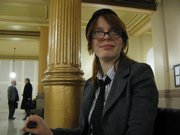 But she said that in June a friend suggested she try K2, a substance that is sold at The Sacred Journey in Lawrence as incense. The substance contains chemicals that produce a marijuana-type high, according to law enforcement officials.
"K2 has been the only successful ally in my battles against spasticity, muscle spasms, and intense migraines without causing grogginess or further fatigue," Gabbard said.
Even so, the committee on a unanimous vote pushed the bill to the full House for consideration. Last week, the Senate approved a similar bill 36-1.
Gabbard attended the House committee meeting and sought permission to speak. But the committee's chair, state Rep. Pat Colloton, R-Leawood, said she wouldn't allow that because the public hearing on the bill, where both sides were invited to testify, had been closed last week.
Colloton and other committee members acknowledged Gabbard's letter. After the meeting, Gabbard said she was surprised that committee members didn't want to ask her questions about her experiences with K2.
She said she doesn't know what she will do if K2 is made illegal because it has been the only thing that has helped in recent years.
Gabbard said making K2 illegal will deprive her of a "useful pain management tool" while those who use it to get high will simply use something else to accomplish that.
Copyright 2018 The Lawrence Journal-World. All rights reserved. This material may not be published, broadcast, rewritten or redistributed. We strive to uphold our values for every story published.