Photo Gallery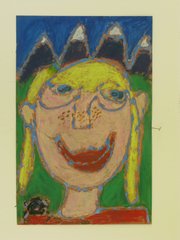 Artsonia gallery
Van Go announces Valentine's show
Young apprentice artists for Van Go Mobile Arts have been creating jewelry, cards and glass pieces to sell at the program's Have a Heart Art Show, which will be 5 p.m.-7 p.m. Feb. 5 at 715 N.J.
Van Go hires at-risk students ages 14-18 for JAMS (Jobs in the Arts Make Sense), which teaches art, life skills and counseling when needed.
Local artists Kylie Grater and Hannah Hurst are teaching new mediums to the teens during this four-week JAMS session. "I am really impressed with the students' personal voice and individuality that they brought to the Laser Jewelry project. Each design is completely unique to the student who created the jewelry design. Thought to material and subtle details for their designs make the pieces totally fresh," Grater says.
The ninth-annual show is free and open to the public. Prices start at $3.
— J-W Staff Reports
In the old days, sharing your child's artwork used to be limited to a magnetic gallery on the fridge. But in the 21st century, it's possible to let hundreds of family members and friends in on your child's talents without all the foot traffic in your kitchen.
Four Lawrence elementary schools are making students' art public to loved ones across the globe and making a few bucks for their arts programs as well with Artsonia.com.
The Web site allows teachers to share students' work — with parental permission, of course — by uploading the artwork to the site, which is billed as the largest student art gallery on the Web. Over 6 million pieces of student art have been uploaded, including 12,000 works of art by Lawrence area students. It's worth noting that the students' identities are protected and privacy maintained by a series of controls, meaning only those whom parents give their permission can check out a child's drawings.
Beth Anstaett, an art educator at Hillcrest School, was the first teacher in the district to use the site, which she discovered after overhearing a couple of teachers discussing it at a conference. Since then, she's taken the time to publish more than 9,000 works of art by her students. And she's help to turn other teachers, like Julia Rose-Weston at Cordley and Sheila Wilkins of Woodlawn and Sunset Hill, onto the program.
International reach
Rose-Weston began uploading art this fall and says that one of the neatest things about the program is that her students are able to share their work with family in other countries.
"I'm (at) an ESL (English as a second language) school, and we have kids from all over the world and they have family all over the world. And this is a way that family that lives in another country can look at their child's artwork," Rose-Weston says. "So, once they have the log-in and the information that they need, anybody in the family can get on and take a look at what their kid is doing here in the states."
Family members can also become a member of the young artist's fan club, which means that they will get an e-mail alerting them each time that child has a new artwork posted. And not only are those one-of-a-kind works available for Aunt Mildred in Estonia to view, but she can buy prints, T-shirts, mugs and other items emblazoned with her favorite picture. Fifteen percent of the proceeds from those sales goes back to the schools in the form of art supplies. Meaning, each time an item featuring a student's artwork is purchased, money is deposited in an account that the teacher can use toward art supplies.
"That's a bonus, you know, I get to get some things for the kids for their art room that I couldn't have gotten — a few extra things," Wilkens says. "And this year it might just be some basic things because of budget cuts."
School support
Adding to the site is a lot of extra work for the teachers, who must pick and choose what art projects will photograph well, take a picture of each piece and upload it to the site. But they say it's worth it for many reasons.
"It is a lot of work. A lot of teachers do an end-of-the-year art show, and I did that at first, but it seemed like it was kind of one day and if you couldn't come or your family couldn't come, you tend to miss out. So thought it would be kind of a way to get around that," Anstaett says. "Also what I like is that as the kids grow and go through school, their artwork ... is all compiled into a portfolio."
Copyright 2018 The Lawrence Journal-World. All rights reserved. This material may not be published, broadcast, rewritten or redistributed. We strive to uphold our values for every story published.