Topeka — A Senate committee on Tuesday started a three-day hearing on bills to abolish the death penalty.
"This issue is something that is very sensitive on both sides," said Judiciary Chair Tim Owens, R-Overland Park, as the meeting started.
The bills are Senate Bill 208 and 375.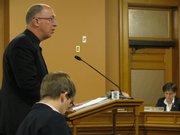 Kansas has had capital punishment since 1994, making death by lethal injection the possible penalty for some murders. But the state has yet to execute anyone under it.
The proposed death penalty repeals would allow for a life sentence without the possibility of parole. Those sentenced to death before the effective date of the bill would still face the death penalty.
Copyright 2018 The Lawrence Journal-World. All rights reserved. This material may not be published, broadcast, rewritten or redistributed. We strive to uphold our values for every story published.