Topeka — The Kansas Department on Aging on Tuesday announced the suspension of four services for low-income seniors because of recent state budget cuts.
The action will affect 550 elderly Kansans and were instituted because of Gov. Mark Parkinson's budget cuts announced in November.
"This was not an easy decision," said Acting Secretary of Aging Martin Kennedy. "We know these are services that many Kansas seniors rely upon to stay in their homes. But we can't continue to provide them and stay within our budget. However, we'll continue to monitor expenditures and restore these services if conditions allow."
The suspended services provide dental work and assistive technology support, which includes pieces of equipment, such as grab bars and bath benches, and home modifications, such as ramps. In addition sleep cycle support was ended, which helps those who need assistance or observation overnight. The agency also stopped comprehensive support services, which provides a wide range of assistance, such as reading and addressing mail.
The services are provided under a state and federally funded program that is designed to help the elderly stay in their homes instead of going to a nursing home.
Kennedy said the services are the most recently added to the program and that by cutting them the agency will be able to continue basic assistance to approximately 5,400 seniors and avoid a waiting list. The service suspensions are expected to save about $2 million, $625,000 of which are state funds.
In November, Parkinson announced a $260 million plan to balance the budget in the face of falling tax revenues.
2 p.m.
Kansas voters could decide in November if state government should set aside tax monies for a "Rainy Day Fund."
The proposal was unveiled Tuesday by state Sens. John Vratil, R-Leawood, and Laura Kelly, D-Topeka. Gov. Mark Parkinson also signed on board.
Vratil and Kelly argued that the "Rainy Day Fund" could help the state weather the kind of revenue decreases in the current recession that has produced significant budget cuts.
The state budget has undergone five rounds of cuts, and lawmakers still face an estimated $300 million shortfall when the 2010 legislative session starts Monday.
"As revenues have tumbled over the past two years, the state has been forced to make draconian cuts to essential Kansas programs," Vratil said.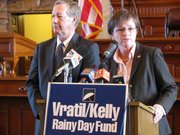 Kelly added, "Wise families set aside savings for a rainy day, and businesses hold back money for revenue downturns. The events of the past two years prove the state needs to do the same."
Under the proposal, the Legislature would have to set aside one percent of state tax revenues any year those revenues increase by 3 percent or more over the previous year.
Legislators would be unable to draw down on the "Rainy Day Fund" unless state general fund revenues dropped below the previous year's total. If that happened, then a majority decision by the Legislature and governor could appropriate those funds. Should the "Rainy Day Fund" reach 7.5 percent of the total state general revenue fund budget, then the set asides could be suspended.
The proposal would amend the state constitution, which means to get on the ballot it will require a two-thirds vote in the House and Senate. If that happened, it would be on the November ballot for voters to decide up or down.
During a news conference by Vratil and Kelly, Gov. Parkinson issued a statement supporting the measure.
"This bipartisan effort demonstrates the progress that can be made when politics are set aside for sound policies," Parkinson said.
Copyright 2018 The Lawrence Journal-World. All rights reserved. This material may not be published, broadcast, rewritten or redistributed. We strive to uphold our values for every story published.