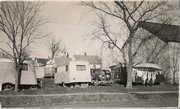 De Soto — Lawrence Allen remembers fondly the De Soto of his childhood, which he said was far different from the farm town of a few year earlier or the bedroom community that would follow.
"It was a lively place. It was just a boom town," he said. "I lived on my smarts right down there when it was going its strongest."
Now 76, Allen moved to De Soto soon after his father closed his junkyards in Gridley to take a job helping build roads in the newly commissioned Sunflower Ordnance Works. His father, Harvey "Junky" Allen, would later open a store in De Soto's suddenly crowded two-block downtown.
As the United States entered World War II in December 1941, a 12-year-old Walt Johnston was living with his family in Abbott Hall, a two-story limestone building dating from 1865 that remains downtown's western anchor.
"My aunt and uncle owned the building," Johnston said. "My dad had a blacksmith shop in the basement."
All that was about to change as the boom overtook a town with an official 1940 population of 383.
In March 1942, the De Soto News started reporting "the world's largest" munitions plant was planned near De Soto in northwest Johnson County, instead of eastern Douglas County as had been previously thought.
From that date, stories told of the press to get the plant built and operating by early 1943. Sunflower would employ 12,000 people during its peak World War II production, but the job rush started soon after the decision to build the plant and the hiring of the first of the 10,000 workers involved in its construction.
Early activity reported in the paper included construction of the Sunflower railroad spur through De Soto, the erection of Sunflower's administrative buildings and the opening of employment office in De Soto.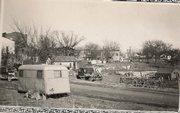 Town transformed
As workers were drawn to Sunflower, De Soto was transformed as inhabitants and newcomers saw opportunity.
In May 1942, the newspaper reported that Abbott Hall was sold to a "Kansas City man," who planned to convert it into a restaurant and living space for Sunflower workers.
Johnston said his family moved to a farmhouse in the Kansas River bottoms west of De Soto. With no space for a blacksmith shop, his dad would start working at Sunflower.
Other buildings also would be converted, including the car dealership/garage that was remodeled into a cafe and lodging. Johnston and Allen remember four cafes on the south side of Main Street in the one block from Shawnee to Wea streets. There was plenty of business at all hours.
"The owner of the Midway Cafe threw the keys to the building into an empty lot across the street," Johnston said, "He said, 'When I need the keys again, it'll be time to close down.' He ran it 24 hours a day."
Among the town's businesses were four grocery stores, a drug store and movie theater, Allen and Johnston said.
There were moneymaking opportunities for boys, too. Johnston said for a period he joined those shining shoes on Main Street.
"You could make as much money shining shoes as you could up on the plant," he said.
The businesses served the parade of plant employees who passed through downtown going to and from work — until a bypass was built to the south later in the war.
"It was terrible bumper-to-bumper traffic," Johnston said. "You couldn't cross the street for two hours at shift changes. There would be traffic cops directing traffic at Abbott Hall."
Those looking to avoid a long drive found lodging hard to come by in De Soto, especially before the first 863 apartments in Sunflower Village opened in August 1943.
A Nov. 18, 1942, story in the Kansas City Times reported on a U.S. Office of Price Administration door-to-door survey of homes in De Soto meant to ensure landlords weren't exceeding rent ceilings. De Soto service station owner Robert Turner told the reporter he was getting constant inquiries about renting his barn and sheds as living space and that the renters of a five-bedroom home he owned had taken in 11 boarders at the rate of $2.50 a week.
It was also reported the going rate for new arrivals to pitch a tent or park a trailer in yards was $2.50 to $3.50 a week.
Allen said when he first arrived in De Soto, he lived with his parents in a tent with a wooden floor behind a downtown grocery store while his three teenage sisters lived in a converted garage about a block away.
As Spartan as his family' lodgings were, they were superior to those of new arrivals who slept nearby on mattresses in the open, Allen said.
Other men rented sleeping quarters on a schedule that corresponded to Sunflower shift changes. Sally Bedford, whose father started work at Sunflower in 1944, said the parents of a childhood friend rented four beds in their attic in such an arrangement.
"There wasn't even enough room to stand up," she said. "You slept for eight hours, and then you had to give it up to the next fellow."
Bedford said her family arrived in De Soto in 1944 with a trailer her father bought while working construction on a defense plant in Oklahoma.
"People would live in chicken coops, sheds or anything that would give them a little bit of shelter," she said. "We felt like with a trailer, we really had it good."
The family first lived at a trailer village near the main gate to the ordnance plant about 4 miles west of De Soto, Bedford said. When that was closed in 1944, they moved into De Soto, parking the trailer at the Methodist Church parsonage, she said.
Overflowing school
The federal government's focus on getting the plant constructed didn't extend to building classrooms for children of plant employees.
Johnston said De Soto's elementary school at the time was a wooden two-story building with two classrooms per floor. The top floor was closed off before the war, when 88 students attended the school, he said.
Elementary enrollment grew to 346 in 1942-43 and to 992 in by the war's end.
To meet the crush, the top floor was reopened and then partitions built in the rooms to double the number of classrooms.
Bedford, a fourth-grader in 1944, said the crowding made for long days for the students of the trailer village, which the principal tried to spin as something good.
"They would empty the bus and send it out again," she said. "The principal said because the local kids had chores to do, they would pick us up from the trailer village first. And then since we came earlier, we would get to stay late. But we weren't that dumb. We realized what he said to us."
The opening of a temporary school for the trailer village students helped ease the situation before the first school was opened in Sunflower Village in 1944.
Crowded schools were just one of the things that caused longtime residents to resent the newcomers, Bedford said.
"There were ones who went, 'There's all that trailer trash coming into town.' But we came anyway," she said. "We knew it was crowded, and we recognized why natives were angry with people coming in.
"But I always thought everything was fine, and I had all I wanted."
Allen said he saw a different side of the boom years because he lived downtown throughout and because of the nature of his father's business.
Among the cafes and bars on the south side of Main Street, his lifelong Republican father opened a business with the tongue-in-cheek name of "Junky's New Deal Shop," Allen said. His father ran the store in an arrangement with a Kansas City family who saw the war coming and stockpiled merchandise, he said.
Hot items were washboards and tubs for people without laundry facilities, Allen said. In a time when things were tightly rationed, the store's black market-supplied shelves had lye and lard for soap, as well as sugar and other hard to come by items.
"He had things like rubber tires, canned peaches, red and green packs of Lucky Strikes and bubblegum," Allen said. "Nobody had bubblegum."
The merchandise was brought in after the store closed at night on two Willys trucks his father owned, and it was often Allen's job to unload the trucks, he said. A basement storeroom also contained a stash of small bottles of whiskey his father gave to favored customers and was the scene of craps games, he said.
His father moved Allen and his sisters into the bottom floor of a boarding house on Main Street about a block west of the store, Allen said. His parents lived in a trailer parked behind the store so his father could keep an eye on it, he said.
Outhouses used by boarders and people living in tents and trailers lined downtown alleys, Allen said. They were also a place where desperate men who failed to find work would mug those too flashy with their cash in the bars, he said.
"I saw more than one mugging," he said. "They were just dunks rolled for money. No one had bank accounts back then."
De Soto's boom ended with the war. Sunflower Ordnance Works was mothballed in 1946 — although it would later be reactivated — but De Soto didn't shrink to its pre-war population.
Allen's parents moved on to open restaurants in Kansas City, Kan., but he continued to live with an older sister who would make De Soto her home.
Bedford said her mother wanted to settle down and her father started working on area bridge crews. She eventually married Archie Bedford, whose family also moved to De Soto during the war.
"A lot of people moved on," Johnston said. "But a lot of people stayed. A lot of them became important to De Soto."
Copyright 2018 The Lawrence Journal-World. All rights reserved. This material may not be published, broadcast, rewritten or redistributed. We strive to uphold our values for every story published.