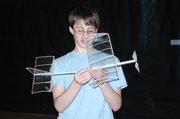 Overland Park — Can you judge a powder?
Students from 20 Kansas middle schools and high schools can. They can also detect diseases, launch eggs across a courtyard and fly model airplanes.
All the training and practice culminated Saturday afternoon for young science lovers as the Northeast Kansas Science Olympiad got under way at Johnson County Community College.
Students endured a mixture of 23 science events. From tests to intricate catapults, the teens proved their science savvy.
Jeremy Way, first-year director of the competition and coach for St. James Academy, a Catholic high school in Lenexa, said the competition gives students a glimpse of science they wouldn't ordinarily get in the classroom.
Natasha Hurt, an eighth-grader at Lawrence's Central Junior High School, said what she learns from Science Olympiad sticks with her.
"I started out in sixth grade and I still remember everything," she said. "It's fun being around people that like the same things, and you learn things you wouldn't normally get to know until high school or middle school."
Natasha said the competition had been hard but still a good time for her team.
"It's been a lot of fun," she said. "Some events have been challenging, but the preparation has helped."
Natasha and her teammates meet every Thursday afternoon to practice.
"I like how you study and work hard, but you're still with your friends," she said. "All the hard work has been worth it."
Unlike sporting and other academic events where schools are divided by size, Science Olympiad competition pits schools of any size against one another. Way said the schools are split by age groups.
"It's like a track meet," Way said. "Students are specialized in two or three events. Each event puts pairs or trios together. It's all about teamwork. It gives kids that aren't on a sporting team a place they feel like they belong."
Way said there's something for everyone at the competitions from hands-on labs to pencil-and-paper tests.
The top schools at the competition move on to the state competition in Wichita later in the spring.
"We're more prepared than a lot of schools," Way said of his St. James team. "We've met a third of the schools here previously at invitationals."
Sean Calry, St. James junior, said the competition on Saturday was hectic.
"It went well," he said. "Not quite as well as we had planned, but you win some, you lose some. We did better at some of the invitationals earlier in the year."
Jack Bredemann, St. James senior, said the team is now focused on its future at the state competition.
"We had some problems with the construction events, but we did our best," he said.
Copyright 2018 The Lawrence Journal-World. All rights reserved. This material may not be published, broadcast, rewritten or redistributed. We strive to uphold our values for every story published.