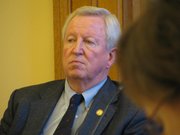 Topeka — State taxpayers and public employees would have to pay more into the Kansas Public Employees Retirement System under legislation announced Friday.
Members of the House-Senate Pensions, Investments, Benefits Committee said the state needed to take action to shore up KPERS, which was hit hard by investment losses during the recession.
"It is imperative we get started," said Senate President Steve Morris, R-Hugoton.
Increasing the rate that public employees pay into KPERS has never been done, Morris said. But, he added, "Times have changed, and we cannot do this alone at this point."
Morris' plan also includes a change in the multiplier that determines pension benefits, raising it slightly, which he said would show good faith with workers.
Several committee members said they wanted to study some other options, and Morris said his proposal would serve as a starting point. The committee authorized the introduction of legislation that contained Morris' options.
State Rep. Geraldine Flaharty, D-Wichita, said KPERS' funding woes are due to the state failing to contribute as much as it should have over the years. "I know we have a terrible problem, but it is us who caused this by not putting in sufficient funds in the 90s," she said.
Glenn Deck, executive director of KPERS, said current retirement benefits were safe, but that the system's ability to weather future economic downturns was compromised.
"Our funding status is tenuous over the long-term if we don't take action," Deck said.
KPERS has 268,000 members, which includes state workers, teachers, and many local government employees, and pays out $1.1 billion in benefits annually. The system has assets of $11.7 billion, but its projected gap between income and expenses over the next 25 years is $8.3 billion.
A report last week found gaps in long-term public obligations nationwide, but Kansas' situation was listed as below par.
Deck said efforts to address KPERS' funding shortfall will take years.
Art Hall, executive director of Kansas University's Center for Applied Economics in the School of Business, has said the state should replace the government pension plan with a 401 (k)-style plan.
Copyright 2018 The Lawrence Journal-World. All rights reserved. This material may not be published, broadcast, rewritten or redistributed. We strive to uphold our values for every story published.