Topeka — Gov. Mark Parkinson said Thursday it will be at least one and half weeks before he appoints a secretary of state.
Former Secretary of State Ron Thornburgh, a Republican, resigned to take a job in the private sector. His last day was Monday.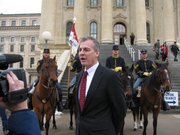 Parkinson, who is a Democrat, said his criteria for secretary of state doesn't include party affiliation or even if the replacement will run for the office in November.
Parkinson spoke to reporters briefly after a ceremony marking Armed Forces Appreciation Day at the Capitol.
Parkinson also praised state Sen. Tom Holland, D-Baldwin City, who announced Wednesday he will run for governor.
He said Holland "would make a great governor" because he has experience as a business owner and a legislator. He also described as "hilarious" suspicion on the part of some Republicans that he plans to run for governor. Parkinson has repeatedly said he will not be a candidate.
Copyright 2018 The Lawrence Journal-World. All rights reserved. This material may not be published, broadcast, rewritten or redistributed. We strive to uphold our values for every story published.