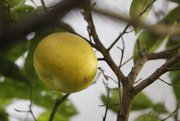 Two grapefruit trees are thriving inside Bob Schumm's garage, each gulping 5 gallons of water a week and basking in the glow of six fluorescent grow lights overhead, where the fragrant leaves rub against the ceiling.
Now that one of the trees is in production — yielding one fruit last year and eight so far this year — the two-time former Lawrence mayor figures he may be onto something.
"It's really a new cash crop for Kansas," Schumm said the other day, plucking another piece of citrus from its shelter under dense leaves. The smirk on his face just might be from the fruit's taste — both exceedingly sweet and intensely tart — but the former board member for the Lawrence Chamber of Commerce is on a roll.
"You just have to start early in life, if you're ever going to cash in on it. It's economic development — it's got eco devo written all over it. It just takes a lot of patience. This cash crop takes a lot of patience."
Patience indeed.
The trees are the fruits of a full 55 years of labor, ever since Schumm — then a 9-year-old Cub Scout — plucked a couple seeds from a store-bought grapefruit, buried them inside a dirt-filled coffee cup and stirred in a little water.
The brew would produce sprouts, ones that would grow into trees so cherished that he dutifully hauls them outside in the spring and lugs them back inside each fall.
That they've lasted this long, and through Lawrence's harsh winters, is a minor miracle, said Jennifer Smith, horticulture agent with K-State Research and Extension in Douglas County. Such trees struggle to handle even a gust of cold air blowing into a garage, much less enduring in-and-out manipulations as potted plants.
Smith even cops to being "a little jealous" about Schumm's green thumb.
"It's amazing," she said. "Most people would have given up a long time ago."
Schumm admits that he never expected to squeeze any fruit from the trees, at least not until he learned about some citrus fertilizer a couple years ago that might have made a difference. A few applications ended up packing the trees with plenty of nourishment, leading to a single, tennis ball-sized grapefruit last year.
Then, in February, one of the trees burst out with hundreds of blooms.
"They have an extraordinary fragrance," Schumm said. "My garage smelled like a cheap perfume factory."
Now he's harvesting the bounty: eight fruits, each packed with flavors he rates as perhaps five times that of a typical grapefruit. Each also is filled with more than a dozen seeds — ones he's dropping into a compost pile instead of stowing in another soiled coffee cup.
"If I'd have known they were going to last this long," he said, "I don't know if I ever would have started them."
Copyright 2018 The Lawrence Journal-World. All rights reserved. This material may not be published, broadcast, rewritten or redistributed. We strive to uphold our values for every story published.