Topeka — Get ready for the conservative juggernaut in the Kansas House.
House Republicans, now with a commanding 92-33 advantage, elected leaders Monday to steer the GOP caucus during the 2011 legislative session that starts next month.
House leaders for the 2011 session
House Speaker Mike O'Neal, R-Hutchinson
House Majority Leader Arlen Siegfreid, R-Olathe
House Speaker Pro Tem Jene Vickrey, R-Louisburg
Assistant Majority Leader Peggy Mast, R-Emporia
Majority Whip William Prescott, R-Osage City
Caucus Chair David Crum, R-Augusta
House Minority Leader Paul Davis, D-Lawrence
Assistant Minority Leader Tom Burroughs, D-Kansas City
Minority Whip Eber Phelps, D-Hutchinson
Caucus Chair Barbara Ballard, D-Lawrence
Agenda Chair Annie Tietze, D-Topeka
Policy Chair Valdenia Winn, D-Kansas City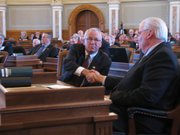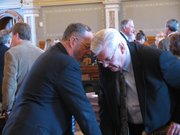 House Speaker Mike O'Neal, R-Hutchinson, was re-elected speaker without opposition. He predicted many conservative issues thwarted in recent years by a coalition of Democrats and moderate Republicans will now be passed.
Along with a pickup of 16 seats in the House in the last election, Republicans hold a 31-9 advantage in the state Senate, and most importantly, have wrested the governor's mansion from Democrats and are set to swear in conservative Republican Sam Brownback.
O'Neal ticked off several issues that he predicted will get more traction in the next session. They include a proposed constitutional amendment to try to stop in Kansas federal health care reform; more restrictions on abortions; cutting more from the state budget; and tax relief.
"There is a lot of appetite in our caucus for tax relief right now," O'Neal said. That could take the form of trying to repeal the 1-cent state sales tax increase that was passed earlier this year, or an overhaul of the tax system that reduces personal and corporate income taxes, he said.
Legislators are facing an approximately $500 million budget deficit even after several rounds of budget cuts, but O'Neal said tax rates could be cut in a way to attract businesses and grow the economy.
Sensing they were in firm control of the House, conservative Republicans on Monday fought hard for the GOP leadership races.
Rep. Arlen Siegfreid of Olathe was elected House majority leader over Rep. Richard Carlson of St. Marys in a 54-36 vote.
Siegfreid said he would try to unify Republicans. "The job is not about pushing my agenda," he said.
Siegfreid replaces Ray Merrick, R-Stilwell, who has moved on to the state Senate.
Those nominating Republicans for leadership positions, frequently mentioned the candidates' conservative credentials.
Noting the massive pick up by the GOP in the last election, Rep. Forrest Knox, R-Altoona, said, "We received a mandate to move back to conservative principles."
The race for speaker pro tem, a post Siegfreid had held, produced five candidates.
After four ballots, Rep. Jean Vickrey, R-Louisburg, won, defeating Rep. Anthony Brown, R-Eudora, 47-43.
Contested races were also held in several other leadership posts among Republicans.
House Democrats also elected their leaders.
Rep. Paul Davis of Lawrence was re-elected minority leader.
Rep. Tom Burroughs of Kansas City was elected assistant minority leader, defeating the incumbent, Rep. Jim Ward of Wichita. Rep. Barbara Ballard of Lawrence was re-elected caucus chair.
Davis said of Siegfreid and Vickrey that they were well-respected. He said he was friends with Siegfreid. "We sat beside each other my first year in the House," he said.
Ballard said Democrats will try to stay unified against large voting disadvantages.
"Our job and responsibilities do not stop just because of small numbers," she said.
Copyright 2017 The Lawrence Journal-World. All rights reserved. This material may not be published, broadcast, rewritten or redistributed. We strive to uphold our values for every story published.