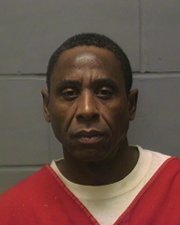 A Kansas inmate convicted of robbery in Douglas County will make his case for a new trial in front of the Kansas Supreme Court on Sept. 15.
In 2007, a jury found Charles E. Smith, 59, guilty of robbing the Presto convenience store, 2330 Iowa, in November 2006. Smith was sentenced to 57 months in prison for the robbery.
However, in 2009 the Kansas Court of Appeals ordered a new trial based on Smith's claims that his Sixth Amendment rights to effective counsel had been violated. The claims stem from a conflict between Smith and his court-appointed attorney, James Rumsey. Prior to trial, Rumsey asked Douglas County Judge Jack Murphy to be removed from the case, while Smith also asked for a new attorney, according to court documents.
Rumsey's request was based on his viewing of the store surveillance video, which he believed showed Smith as the robber. Smith claimed the man in the video was not him, and asked Rumsey to pursue a mistaken identity defense. Rumsey, meanwhile, said he couldn't put Smith on the stand and elicit testimony that he knew was false, since he believed the video depicted Smith. The request for a new attorney was denied and formed the basis for the appeal.
Meryl Carver-Allmond, an attorney from the Kansas Appellate Defender's Office who is representing Smith, said that another attorney may have viewed the video differently.
"The video is of such poor quality that it's hard to see anything more than the basic characteristics of the robber," she said.
After the appeals court ordered a new trial, the Douglas County District Attorney's Office and the Kansas Attorney General filed an appeal to the Kansas Supreme Court. Douglas County District Attorney Charles Branson said the judge acted properly in not appointing Smith a new attorney, and that Smith received a fair trial.
Copyright 2018 The Lawrence Journal-World. All rights reserved. This material may not be published, broadcast, rewritten or redistributed. We strive to uphold our values for every story published.