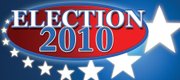 Find detailed candidate profiles, campaign finance information and complete election coverage in our Election Guide.
Overland Park — Kansas Insurance Commissioner Sandy Praeger has won a third term in office by winning Tuesday's Republican primary.
See a precinct by precinct breakdown of this race.
Praeger, of Lawrence, defeated El Dorado insurance agent and tea party favorite Dave Powell in the GOP balloting.
No other party has a candidate for insurance commissioner, so Praeger will be re-elected in November.
Praeger is a GOP moderate who served as Lawrence mayor and in the Kansas House and Senate before being elected commissioner in 2002. She won re-election in 2006.
Praeger said her victory was a team effort.
"It's always good to have validation of the work," Praeger said during a phone interview from Overland Park. "My name's on the ballot, but it's my whole department that I give credit to."
Praeger said her next term figures to be a busy one, especially with the major health reform law Congress passed earlier this year. Her office will be charged with educating consumers and businesses on the law's changes and helping implement certain changes. She said state regulators were able to preserve their functions as part of the new law.
"Now that means we've got to step up to the plate and make sure that we're there to put the right rules in place," Praeger said.
10:40 p.m. update
Republican Sandy Praeger has been announced the winner in the in the primary race for Kansas insurance commissioner, defeating David Powell with 63 percent of the vote as of 10:40 p.m. Praeger holds 150,252 to Powell's 89,825.
She will be unopposed and be named insurance commissioner, as there are no Democrats running.
8:09 p.m. update
Sandy Praeger leads David J. Powell 18923-8652 in the primary race for Kansas insurance commissioner.
Copyright 2018 The Lawrence Journal-World. All rights reserved. This material may not be published, broadcast, rewritten or redistributed. We strive to uphold our values for every story published.