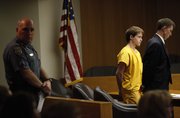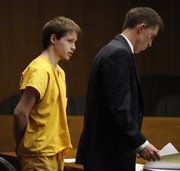 Lawrence resident Eric Ochs, 22, spent most of his life in state custody, in and out of foster homes for as long as he can remember. Now he could spend the rest of it behind bars.
A Douglas County District Court judge handed down a life sentence Friday to Ochs for the February 2009 rape of an 11-year-old girl he was baby-sitting.
Ochs will not be eligible for parole until he serves at least 25 years in prison. A jury in January convicted Ochs of one count of rape.
The incident happened on Feb. 6, 2009, as Ochs was baby-sitting the girl and her siblings at their North Lawrence home.
"We counted him as family," the victim's mother told the judge. "I trusted him and took him into my home, and he did this to my daughter. She was a child and he knew what he was doing."
Because the victim was under 14, Jessica's Law applies. The law, passed by the Kansas Legislature in 2006, significantly increased penalties for sex crimes with young children.
Florida first enacted the law after the kidnapping, sexual assault and murder of 9-year-old Jessica Lunsford in 2005 by a convicted sex offender.
Ochs' attorney, Kevin Babbit, argued the statute is unconstitutional, saying the punishment doesn't fit the crime.
Jessica's Law makes the sentence for certain sex crimes the same as the sentence for first-degree murder, and makes the punishment more severe than second-degree murder.
Judge Michael Malone rejected the argument.
"Both Mr. Ochs and I feel strongly that it's the wrong decision," Babbit said. "We hope that once an appeal is filed that our supreme court will fully address this issue and decide that Jessica's Law, or the sentence as applied to Mr. Ochs in this case, is cruel and unusual punishment."
Babbit also filed a motion seeking a departure from the standard sentence. The defense was asking for the judge to impose a 12-year sentence instead of life in prison.
Ochs took the stand, maintaining his innocence and pleading for leniency.
"On Nov. 11, 2008, I was blessed with a daughter," Ochs told the judge. "I made a promise that I would not be like my father. Let me be in her life even if it's just for a little bit. Please make an exception for me."
Malone denied the request. Ochs will first be eligible for parole when he's 47. He's not eligible for any time off for good behavior and will be required to be supervised for life. If he is released from prison, he will be required to register as a sex offender.
Babbit said they planned on filing an appeal.
Douglas County District Attorney Charles Branson said he was pleased with the outcome of the case.
"Some may think it's too harsh," Branson said, "but the reality of it is the legislature decided this is what they wanted to do and until they change their mind, it's the law that's on the books, and it's the law that needs to be enforced."
Copyright 2018 The Lawrence Journal-World. All rights reserved. This material may not be published, broadcast, rewritten or redistributed. We strive to uphold our values for every story published.