McLouth — Downtown McLouth, at least for a few minutes, took on the feel of a 1940s French village Saturday.
The World War II Reenacting Corps, based out of El Dorado, put on a demonstration depicting American soldiers who encounter German soldiers in France during World War II.
The demonstration was part of the annual McLouth Patriots Day festivities. A pancake feed, bake sale, vendors, crafts and quilt show were some of the activities that complemented a youth parade and then the main event, the Patriots Day Parade. Several veterans, as well as the McLouth High School marching band, politicians and local groups and organizations participated in the parade. People dressed as George and Martha Washington and Paul Revere made appearances as well.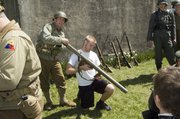 After the parade, the World War II re-enactors were at center stage.
The group consisted of five "American soldiers" and three "German soldiers." During the re-enactment, two German soldiers were killed, one American wounded and the third German captured.
Erik Runge, who portrayed one of the German soldiers, said the re-enactment's purpose is to "remember, honor and educate" people about World War II, which also is the theme of the World War II History Center in El Dorado.
Mike Kepley, who portrays a German sergeant, said the re-enactors practice on 40 acres near El Dorado. There also are plans for a Russian division to be added to the group. And, he noted, the full group of re-enactors was not at Saturday's event. In total, there are about 12 German soldiers and roughly 20 American soldiers, Kepley said.
Runge said his favorite part of doing re-enactments centered around interacting with people after the act itself — talking to people about World War II history and the various ammunition and other equipment from the era. Runge also said it was amusing how many youths knew all about the various weapons because they've played the video game "Call of Duty."
Alex Courtney, 16, a sophomore at McLouth High School, had the opportunity to put a bazooka on his shoulder. For a $1 donation to the World War II History Center, people in attendance could hold some of the weapons.
"It was a lot heavier than I thought it would be," said Courtney, who is looking to join the Air Force.
One of the Patriots Day organizers, Cliff Weeks, said the re-enactment put a nice "finishing touch" on the festivities. And the ideal weather was a bonus.
"The crowd was larger, the parade was longer and the people had a great time," Weeks said.
Copyright 2018 The Lawrence Journal-World. All rights reserved. This material may not be published, broadcast, rewritten or redistributed. We strive to uphold our values for every story published.