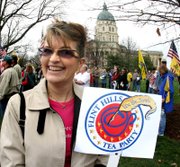 Topeka — A Sarah Palin lookalike from Kansas has been getting a lot of stares since the 2008 election.
Manhattan resident Gail Lortscher says she'd be rich if she had a nickel for every time she's been photographed or asked for an autograph.
Friends have dubbed Lortscher "Sarah of the Flint Hills." She even plays up her resemblance to the former Alaska governor by dressing the part.
Lortscher is a Republican and has attended three tea party events, including one last week in Topeka. She says she's decided that maybe she can help by being Palin's proxy in Kansas.
Lortscher says she can't even go into a McDonald's restaurant without people yelling at her, "Hey Sarah."
Copyright 2018 The Associated Press. All rights reserved. This material may not be published, broadcast, rewritten or redistributed. We strive to uphold our values for every story published.