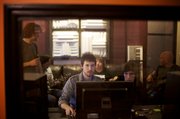 Matt Christenot wanted a place artists could come to create and feel at home but didn't want it to cost a fortune. So he and some business partners decided to open The Art House at 912 Ill., a collective space for artists, bands and musicians to work together.
"When you walk in, there's all these people doing these creative things and it inspires you," Christenot said.
The business had its first open house in January.
Will Katz, director of the Kansas University Small Business Development Center, 734 Vt., Suite 104, provides free training and seminars for people like Christenot who are interested in starting a small business or people who are already running one.
Katz said potential business owners need to consider three main success factors before starting a business: management, market and money.
"If you get those three things and they line up for you, I think odds are you'll be pretty successful," he said.
Katz said money is usually the biggest obstacle for people but that they find it from all different sources. Friends and family often contribute what Katz called "love money" to help a business get started. Others look for loans or investors.
The best option, though, is having money saved before the business gets going.
"Bringing your own capital to the table is best," he said.
Christenot wanted to go into his project with no debt and said so far he hasn't had to borrow. He and John Flynn, co-owner of Mass Street Music, 1347 Mass., brought their own capital to the project, which helped renovate the building. Then the trick was convincing Jim Barnes, head engineer for Art House, to move to Lawrence from Louisiana with his expensive recording equipment.
Now the key is seeing whether this fledgling business can support three people, Christenot said. He is renting out parts of the house to other artists, including visual artists, a hair stylist, a banjo player and a film editor. A goal is to make the studio accessible to all bands and artists, which means lower rates than competitors and a comfortable atmosphere.
"You feel like you're coming home rather than going to a business," Christenot said.
Shane Powers is another Lawrence resident who is starting a business with low overhead costs. Powers, who recently graduated from Pinnacle Career Institute, is working to open a pedal-powered rickshaw business in Lawrence after visiting Austin, Texas, where he saw a similar business. He hopes he will transport people around downtown, to and from KU football games and eventually around Lawrence for a historical tour. Now he's waiting for the city of Lawrence to create a permit so he can legally operate in town.
Part of his business plan must consider that he won't operate during the colder months of the year. Issues such as this are why he worked on a business plan with the development center.
"You have to consider every little possibility," Powers said. "When troubles arise, hopefully you're ready."
While money, management and market are all important, Katz said focusing on what a business is trying to sell is essential. He said he sees businesses start to focus on expenses and then forget the revenue side.
"Don't stop selling," he said. "Don't stop doing the marketing that's actually working for you and driving the revenues."
Copyright 2018 The Lawrence Journal-World. All rights reserved. This material may not be published, broadcast, rewritten or redistributed. We strive to uphold our values for every story published.