Information
Kansans with questions about swine flu can e-mail H1N1fluinfo@ kdheks.gov. Information is also available at kdheks.gov and by calling toll-free 877-427-7317 from 8 a.m. to 5 p.m. Monday through Friday.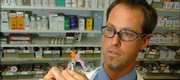 An outbreak of H1N1 Swine Flu was reported in Mexico in April 2009. By the end of May, it had spread across the U.S., with all 50 states reporting cases.
Topeka — State health officials Wednesday announced that Kansas will start receiving the H1N1 vaccine next week to fight the swine flu.
"We in the United States are beginning to do something that no one in history has done before -- to stop a pandemic dead in its tracks with a vaccine," said State Health Officer Dr. Jason Eberhart-Phillips.
But the first allocation to Kansas of 16,000 doses in nasal spray form is so far below what is needed that officials are recommending a ranking of groups to be vaccinated first.
"Today is really just the beginning of what is going to be a very long vaccination campaign," Eberhart-Phillips said.
It will take months before there is enough vaccine to cover everyone who wants it, according to state and federal officials.
Still, state officials were touting the first order of vaccine as a milestone in battling the quick-spreading illness that has killed six in Kansas and been confirmed in 55 of the state's 105 counties, including Douglas County. They expected the first doses to be given next Tuesday or Wednesday.
The Kansas Department of Health and Environment will allocate the state's share among the counties. The initial allocation will be based on 2008 census data of people up to 24 years old since the strain of flu seems to be hitting young people hardest.
Local health departments will get the vaccine and distribute it to doctors, hospitals, retail pharmacies and other providers.
Lisa Horn, communications coordinator for the Lawrence-Douglas County Health Department, said health officials from schools, universities and businesses have been meeting several times a week recently to go over vaccination plans.
"It's going to be a big one, and we definitely need all the help that we can get," she said.
Under federal guidelines, the five groups who are to get the vaccine first are pregnant women, people who live with or care for children younger than 6 months, health care providers, people 6 months through 24 years old, and people between the ages of 25 and 64 who have chronic medical conditions.
Kansas officials have recommended further narrowing the first batch of the vaccine to health care workers and healthy children from 2 years old to 9 years old. Vaccinating health care workers will protect them and those who they care for, and the nasal-spray is appropriate for the 2-9 group, who will require a second dose, officials said.
Health officials emphasized that the H1N1 vaccine is safe and effective.
KDHE Secretary Roderick Bremby said as soon as the vaccine is available for his four children, he will have them vaccinated.
Copyright 2018 The Lawrence Journal-World. All rights reserved. This material may not be published, broadcast, rewritten or redistributed. We strive to uphold our values for every story published.