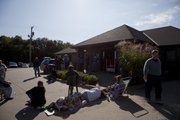 The need for health care reform was evident Friday morning as people lined up outside Douglas County Dental Clinic in hopes of being one of the lucky ones to receive free dental care.
The clinic, 316 Maine, had 25 volunteers, including dentists, hygienists and dental assistants, to provide care for low-income and uninsured patients on a first-come, first-served basis. Sixty-five people received help.
The first person arrived at 3:30 a.m. and slept on the front porch as others lined up behind him. By 5:30 a.m. when executive director Julie Branstrom arrived, 30 people waited in the parking lot. By 7 a.m., all 65 spots were filled.
Drawing No. 56, Kansas University student Tanya Rezayazdi, 23, said she felt fortunate.
"I just made it," she said with a smile.
Rezayazdi said was dropped from her parents' insurance a couple of months ago because of her age. She recently had dental X-rays that cost $200, and she was told that she had two cavities that needed to be filled and it would cost another $300. It was something she couldn't afford.
Luckily, her parents saw information about the free clinic.
"I have to get this done," Rezayazdi said, adding that she was grateful for the free clinic.
Those same sentiments were repeated many times over by people who waited in the parking lot Friday morning to see a dentist.
R.J. Quigley, 25, Lawrence, has been unemployed for a couple of months and hasn't had health or dental insurance for about five years.
"I've got some wisdom teeth that need to be extracted very, very badly," he said as he sat on the curb of the parking lot. Pain comes and goes, and it's a nuisance.
Quigley said he would put up with the pain until it became absolutely unbearable.
"Without insurance, the cost is pretty astronomical," he said.
Unfortunately, Branstrom said she hears stories such as Quigley's often. The clinic, which serves uninsured, low-income patients, has seen a 9 percent increase in appointments this year compared to last year.
Additionally, the clinic has seen a 26 percent increase in the number of uninsured adults who qualify for services at its lowest fee level. That level is $22,050 per year for a family of four.
"When you can't afford to go to the dentist. You typically operate in crisis mode and as much as we would like to get people in here on a regular basis for preventative care, when it comes down to whether you have money to put food on the table or go to the dentist, that's not an easy choice to make," Branstrom said. "A lot of times, they don't come here until they can't take the pain anymore."
Douglas County Medical Corps volunteer Paula Hladky said helping with the second annual Free Dental Day event was eye-opening.
"We take these gifts that we have — dental care and medical care — for granted, and today it shows us how many people are in need," she said. "For some, it's been 15 years since they've seen a dentist. Sometimes I think at the end of six months, 'Oh, I am glad it's time to go because I feel the need.' I can't imagine 15 years. But everyone of these people know how important it is that they get in."
Single mother Kendra Rodriquez, 24, is a school bus driver and raising two children — ages, 4 and 1. She got in line at 5 a.m. because her front tooth was starting to chip away. She hasn't had dental insurance since turning 19.
"I think it is really awesome that they are doing this for people who can't afford the medical care," she said. "I just haven't been able to find a job where I can afford the insurance."
By day's end, the clinic provided $13,563 in care. That included 65 examinations, 46 fillings, two root canals, 12 extractions and 12 cleanings.
The dentists who provided time and services were Cheryl Biesterfeld, Kelly Farmer, John Hay, Brent Jones, Ed Manda, Richard Valbuena, Matt Krische and Phil Gaus.
"We really could not do this without their help," Branstrom said.
Copyright 2018 The Lawrence Journal-World. All rights reserved. This material may not be published, broadcast, rewritten or redistributed. We strive to uphold our values for every story published.