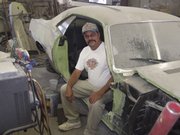 Liberal — Shortly after the May 5, 2007, F-5 tornado that destroyed 95 percent of Greensburg, National Guardsmen flew over the decimated city taking photos of the utter destruction.
Amongst the debris, one photo caught a glimpse of a 1973 green Plymouth Barracuda along with several other vehicles.
The photo made it to pages of a Dodge-Chrysler Mopar magazine and across the Internet, and in time, would be the answer to one Liberal man's dream.
About a year after that photo was taken, bricklayer and master mason Nick Schwindt, owner of Schwindt Stone and Masonry in Liberal, was working in Greensburg helping to restore some resemblance of normalcy to the small, central Kansas town.
"We were working on a church in Greensburg First Christian Church — and we were bricking in a new building," Schwindt said. "After work each day, we usually took a different route home to look at all the twisted stuff up in the trees and the different damage and stuff around town."
One day, Schwindt noticed a car that was mostly covered by a tarp sitting between two covered boats. And he recognized the rear bumper.
"I stopped and looked at it, and there were three young Mennonite guys building a log cabin off to the side," Schwindt said. "I asked them, 'Whose little green car is that?' and they said, 'Isn't that cool?' I said, 'Yeah, I've been looking for one of those."'
The car was a 1973 Barracuda, and when Schwindt lifted the tarp, he noticed it had the 440 emblem on the hood.
"I actually didn't see all the damage on it, but I could see it had a broken windshield and small dents all over it," he said. "I'd really been looking for one for about 20 years."
The men didn't know who exactly owned the car, but they suggested Schwindt call the woman they were building the cabin for, because she was the property owner.
"So I called this Rhonda and talked to her. She told me the car was her son's and husband's, or actually, it was her son's car and the husband was going to help him fix it up," he explained.
Her son was a junior at Greensburg High School and the woman wasn't sure if he wanted to sell it. That's when Schwindt went to work.
"I kind of worked on them a little bit," Schwindt said, with a big smile. "I talked to them for the next two to three weeks. They were sure they didn't want to sell it — then they did want to sell it.
Then they weren't — then they were.
"Finally, I offered them a little more money, and I got it," he added. The car's engine would actually run, but Schwindt didn't want to risk trying to drive it with the smashed windshield, so he used a trailer to bring it back to Liberal.
"When we got it home, we washed it and started cleaning it up and looking it over," Schwindt said. "When we opened the doors, in the doors and the fender wells, we found pieces of wallpaper, sheet rock, shingles, insulation, wood trim all kinds of crap that had blown in there during the tornado."
Schwindt collected all the debris found in the car and saved it.
Schwindt said the car was in its original color, Plymouth's 'Sublime Green,' but he never liked that color, though he loved the car itself. "I'm going to paint it black," he said.
The 'Greensburg Barracuda' sits at Hodges Body Shop in Liberal, where shop owner Andres Ortiz and his crew are working to get all the dents smoothed out and restoring the car to its original shape.
"Hopefully, it will be ready in about month or so," Schwindt said, smiling ear-to-ear. So if people see a black '73 Barracuda cruising Main in Liberal, just remember, it's not only a muscle car — it's tougher than a tornado.
Copyright 2018 The Lawrence Journal-World. All rights reserved. This material may not be published, broadcast, rewritten or redistributed. We strive to uphold our values for every story published.