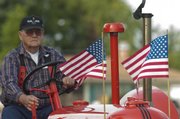 Funeral processions to Lawrence's Memorial Park Cemetery rarely arrive in the style that brought Elmer Johanning to his final resting place.
Ten Case tractors led the procession for the long-time Douglas County farmer and former Case tractor dealer, who died Saturday at the age of 91.
Before he died, Johanning spoke with his family about his wishes for the funeral. Fittingly, one of his own Case tractors carried him to the cemetery.
Johanning's daughter, Mary Wakeman, helped make the arrangements with her father.
"I said, 'The two D tractors that you sold new, we have them and we'd like to carry you to the cemetery with them,'" she said. "He said, 'That would be great, that sounds like a good celebration.'"
When Wakeman told her father that several of his former customers would like to participate, Johanning was glad to hear that tractors would play such a large role in the funeral plans. "The more the merrier, let's have a tractor show," Johanning said as he lay ill at the Colmery-O'Neil VA Medical Center in Topeka
Friends and family said the funeral was fitting for a man who spent 35 years selling tractors to local farmers. Many in attendance at services at Warren-McElwain Mortuary wore their Case tractor apparel.
"He told me this is what he wanted, and he got his wish," said Stuart Wakeman, one of Johanning's grandchildren.
Before beginning the career in which he became known as "The Case Man," Johanning served in the U.S. Army Air Corps during World War II. He was buried with military honors.
Copyright 2018 The Lawrence Journal-World. All rights reserved. This material may not be published, broadcast, rewritten or redistributed. We strive to uphold our values for every story published.