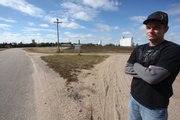 Hutchinson — One word describes Levi Mitzner: survivor.
At 24 years, the Abbyville resident has endured two life-threatening experiences.
He was just 17 when a tumor was successfully removed from his brain through surgery. And on Aug. 1, Mitzner suffered a traumatic head injury when he wrecked his motorcycle east of Abbyville, three blocks away from his home.
He spent nearly 20 days in a coma at a Wichita hospital before he awoke and began a rehabilitation process that included relearning how to dress and bathe.
Accident
"Several people have been praying for me," Mitzner said as he reflected on the near-death experiences.
Mitzner doesn't remember how he wrecked his motorcycle. He remembers going to his cousin's birthday party in Arlington, about six miles south of Abbyville in Reno County. He even remembers giving his aunt a ride on his bike.
His cousin, Brandon Ehling, followed Mitzner home around midnight Aug. 1. But when Ehling arrived at Mitzner's house, Mitzner was nowhere to be found.
"I retraced the route to Abbyville," Ehling recalled. "I thought maybe he had hit a deer. I remember it was storming. The lightning lit this whole area up, and we found him lying in the field. If it wasn't for the lightning, we would have never found him."
Mitzner's motorcycle was lying in the north ditch, while he was in the field at least 20 feet away. He wasn't wearing a helmet at the time.
Emergency officials were unable to airlift Mitzner because of the storms, so he was transported by ambulance to Via Christi Hospital-St. Francis in Wichita.
Excruciating wait
The 20 days Mitzner spent in a coma in the intensive care unit at Via Christi was an excruciating time for his family members who didn't know whether he'd survive.
Mitzner's parents, Robert and Lorene Mitzner, rushed to be at their son's side when they learned of the accident.
Robert admits he drove "too fast" from Nebraska to the Wichita hospital where his son was taken.
Levi fractured his skull and immediately needed surgery to remove blood clots, his mother said. The fracture was in nearly the same place where his brain tumor had been removed.
The couple bonded, however, with other families going through similar experiences, including the family of a 23-year-old Wichita man who had also been in a severe motorcycle accident.
Robert said he and Lorene were a "nervous wreck," though. They were told it could be days, weeks or months before their son would wake up.
Recovery
Robert and Lorene remember the day they were called to their son's room, and he was sitting on the bed.
He didn't just one day wake up, though, Lorene said.
"The doctors told us it wasn't going to be like the movies where, one day he could just wake up and talk again," she said. "He was semi-conscious and would come in and out."
Although it was painful, Lorene remembered there were other families at the hospital who were praying their injured loved one would make any sort of movement.
The first thing Levi remembers is riding in an ambulance from the hospital to Our Lady of Lourdes rehabilitation center in Wichita, where he would spend another week recovering.
Levi said he had trouble with his balance because he had double vision from a damaged optic nerve. While in the rehabilitation center, he practiced dressing himself and showering.
"He had more balance and comprehension problems than anything," Robert said.
Levi hasn't been on a motorcycle since his accident — and he says he doesn't want to ride one ever again.
"Anybody who wants to ride one, especially without a helmet, can come look at his head," Robert said, pointing to the missing hair and scars lining Levi's head.
Levi has one more semester at Hutchinson Community College to complete his degree in fire science. He wants to be a firefighter, if he can.
Although Robert is a mechanic and owns Mitzner Repair in Hutchinson, community members organized several fundraisers to help pay for the family's travel, food and lodging expenses when Levi was hospitalized.
"We've had prayers the whole time," Lorene said.
She won't forget the letter to Levi from a friend from Abbyville Community Church.
"It said, 'God must have a purpose for you. He saved your life twice."'
Copyright 2018 The Lawrence Journal-World. All rights reserved. This material may not be published, broadcast, rewritten or redistributed. We strive to uphold our values for every story published.