Topeka — 2 p.m.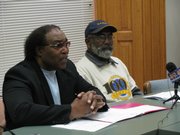 Members of the Kansas chapter of the NAACP on Thursday called on state Rep Bill Otto, R-LeRoy, to remove from You Tube his video where he criticizes President Barack Obama while wearing a hat that says "OPOSSUM the other Dark Meat."
At a news conference, NAACP members said Otto's self-desribed "RedNeck Rap" was racist, tasteless and inflammatory.
The Rev. Ben Scott and Charles Jean-Baptiste, former president of the Kansas branch of the NAACP, also said they believe Otto's video was indicative of an increase in public displays of racism since Obama's election.
Otto has said the reference to opossum was meant as a joke about his hillbilly heritage, and was not aimed at the president.
12:35 p.m.
Attorneys for a Eudora woman whose wrong ovary was removed said Thursday that a $250,000 cap for damages was unconstitutional.
"It's a fundamental affront to the court and separation of powers," said Ned Miltenberg in arguments before the Kansas Supreme Court.
But Bruce Keplinger said the Legislature was within its rights to cap damages as a way to help keep insurance companies and doctors in the state.
The cap, Keplinger said, "is vital to the viability of this state. If it goes away, you will be creating the insurance crisis of 2010."
The dispute focuses on the case of Amy Miller, who in 2002 went in for surgery for removal of her right ovary. Dr. Carolyn Johnson of Lawrence removed her left ovary by mistake.
Miller sued for malpractice and a Douglas County jury awarded her $759,680, which included funds for pain and suffering and future medical expenses.
But the award was knocked down by then-District Court Judge Steve Six to comply with the $250,000 cap approved by the Legislature 20 years ago.
Miltenberg argued that establishment of such a cap violates constitutional rights of trial by jury, and infringes on the constitutional authority of the judiciary.
But Keplinger said the cap was put in place to serve a public good -- keeping health care and insurance available -- and didn't infringe on constitutional rights.
"Limiting the amount a plaintiff takes home does not affect the right to a jury trial," he said.
Keplinger also argued that although Johnson removed the wrong ovary, the one she did remove would have had to have been removed soon anyway because it was in bad condition.
But Bill Skepnek, the trial attorney for Miller, said there was no evidence to indicate that was true. "There was no medical justification for removing the left ovary," he said.
The court took the case under advisement, and didn't indicate when it would decide the matter.
10:06 a.m.
Gov. Mark Parkinson, who just returned from a trade trip to Taiwan, is going to China next month.
At a news conference yesterday, Parkinson said Kansas should be more aggressive in selling its products to other countries.
Kansas businesses sold nearly $12.5 billion in exports in 2008, a 22 percent increase over 2007, according to the Kansas Department of Commerce.
The Trade Development Division of the commerce department operates offices in China, Japan, Mexico and the United Kingdom. Parkinson said he would like the department to open up additonal offices in Taiwan, Brazil and India.
Copyright 2018 The Lawrence Journal-World. All rights reserved. This material may not be published, broadcast, rewritten or redistributed. We strive to uphold our values for every story published.