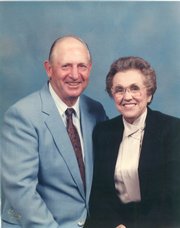 Leavenworth County Sheriff's officers were successful Tuesday in finding a rural Tonganoxie couple who had lost contact with their family Monday evening.
Maj. Ron Cranor, Leavenworth County undersheriff, said officers found the couple, Everett and Bernice Smith, about 1:40 p.m. Tuesday a few miles south of Tonganoxie.
Authorities had issued a Silver Alert for the Smiths with a vehicle description after a family member said the last contact with the couple was a cell phone call at 9:10 p.m. Monday.
Based on that call, the family thought the Smiths, both 86, were lost somewhere in Kansas. Later, family members were unable to reach the couple by cell phone.
Cranor said about 1 a.m. Tuesday a Kansas City, Kan., police officer helped the couple find Interstate 70 when they were near 18th Street.
Kay Smith, the couple's daughter-in-law, said the Smiths were safe early Tuesday afternoon when officers found them.
Copyright 2018 The Lawrence Journal-World. All rights reserved. This material may not be published, broadcast, rewritten or redistributed. We strive to uphold our values for every story published.