Photo Gallery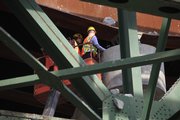 Kansas Turnpike bridge explosion
LJWorld.com will provide comprehensive coverage of Sunday afternoon's Kansas Turnpike bridge blast, including the actual demolition via live streaming video.
A look at the various ways to experience the blast with LJWorld.com and 6News:
• Log on to LJWorld.com for live shots from the demolition. Starting just before 12:30 p.m., streaming video of the bridge will appear on the LJWorld.com homepage.
• Follow Journal-World transportation reporter Mark Fagan, who will provide updates from his Wheel Genius twitter feed before, during and after the blast.
• Watch Channel 6 News at about 1:30 p.m. for interviews and video clips from the proceedings.
• Check back Sunday afternoon with LJWorld.com for videos of the demolition from various camera angles and a photo gallery filled with shots from various vantage points.
• Tune in to 6News at 10 p.m. for additional coverage of the bridge blast and other local news.
Copyright 2018 The Lawrence Journal-World. All rights reserved. This material may not be published, broadcast, rewritten or redistributed. We strive to uphold our values for every story published.