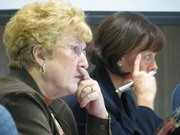 Topeka — State education officials today were sounding the alarm.
Deputy Education Commissioner Dale Dennis said public schools will see a $150 per student decrease in spending immediately because costs have gone up and state leaders have said they will not make up the difference.
And, Dennis said, he expects Gov. Mark Parkinson to institute another cut on schools before the month is over to help balance the budget.
Dennis said some districts will use emergency funds to bridge the revenue shortfall, but some districts don't have much in reserve.
"Some will struggle bigtime," he told members of the State Board of Education.
8:36 a.m.
U.S. Rep. Lynn Jenkins, R-Topeka, has been recruited by House Republicans to encourage female GOP candidates in 2010, POLITICO reports.
Jenkins represents the 2nd congressional district, which includes west Lawrence.
The story deals with the small number of Republican women in the House and whether that is because the GOP is turning more to the right. It's at www.politico.com/news/stories/1109/29308.html
Copyright 2018 The Lawrence Journal-World. All rights reserved. This material may not be published, broadcast, rewritten or redistributed. We strive to uphold our values for every story published.