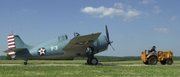 Past Event
A full day of events to commemorate the airport's 80th anniversary.
When: Saturday, May 16, 2009, 7 a.m. to 3 p.m.
Where: Lawrence Municipal Airport
-->
-->
Past Event
When: Saturday, May 16, 2009, 8 a.m. to 11 a.m.
Where: Lawrence Municipal Airport
-->
-->
Past Event
When: Saturday, May 16, 2009, 8 a.m. to 3 p.m.
Where: Lawrence Municipal Airport
-->
-->
Past Event
When: Saturday, May 16, 2009, 11 a.m.
Where: Lawrence Municipal Airport
-->
-->
Past Event
When: Saturday, May 16, 2009, noon
Where: Lawrence Municipal Airport
-->
-->
DAR Corp. wants to build prototype aircraft at a new hangar.
Jes Santaularia wants to build a new business park nearby.
And Rick Bryant?
He simply wants to make the most of a small, landlocked and bustling airfield to help get the Lawrence economy off the ground, flying high once again.
The rest, according to his forward-thinking flight plan, is very much on the radar.
"It's all blue sky," said Bryant, outgoing chairman of the city's Aviation Advisory Board. "We're in a great position."
As Lawrence Municipal Airport prepares to celebrate its 80th anniversary Saturday, aviation officials and supporters are busy working on plans to help the airfield survive and thrive for another 80 years and beyond.
But to stand out among the region's other general aviation airports and land the kinds of promising businesses and lucrative visitors that make such operations grow, officials acknowledge that a basic city service will need to find its way north of U.S. Highway 24-40 and into the airport's property.
That's right: sewer.
"The synergy of the airport is starting to develop now," Bryant said, acknowledging federal investments, equipment upgrades, Kansas University efforts and other developments that have elevated the airport's abilities and stature. "Once the sewer is in place, it opens up all kinds of opportunities for the airport.
"A dedicated sewer coming out to the airport puts us in the 21st century; no more septic tanks, no more toilets backing up in the terminal building."
Development prospects
Sewer service is central to a proposal to bring DAR Corp. to the airport. City officials are reviewing the company's plans and discussing how investing $2 million or more into extending water and sewer utilities — especially during such tight budget times — might pay off in the future.
"We're pleased with the level of interest that we've been receiving at the airport," City Manager David Corliss said, soon after DAR Corp.'s plans were revealed. "I agree with a number of people (who believe) that our airport is an underutilized economic development tool."
Lloyd Hetrick, the airport's fixed-base operator, said that he would be happy to accommodate additional development at the airport. More businesses mean more business for him, as his Hetrick Air Services provides repair, maintenance, fueling and other services for pilots, their passengers and planes.
He's been on the scene since 1983, and is looking forward to KU's School of Engineering continuing to bolster its presence at a hangar at the other end of the field. Businesses such as DAR Corp. could add to the employment and expertise at the airport, fueling a growth of such operations so that others want to join in and share in the facilities and services available.
"There's room for more," Hetrick said.
But with the airport essentially landlocked — its nearly 400 acres are bounded to the west by East 1500 Road, to the south by U.S. 24-40, to the east by property owned by KU Endowment, and to the north by Mud Creek — space is at a premium.
And airport leaders are hoping to one day expand the main runway beyond its 5,700 feet.
"We have room for an additional 400 feet on the south end," Bryant said. "That's in our long-term plan. It's just a matter of when we can get the money to get that done. That would get us to 6,100 feet, and that opens up everything in the business jet fleet.
"With a few more inches of concrete or asphalt (on top) to strengthen it, you could get a 727 up and down off of it. The charter flights would be an option."
Such a project has been submitted to the Federal Aviation Administration for consideration, and is envisioned for 2013-14. The city likely would be responsible for 10 percent of a final construction cost.
Surrounding areas
Projects also are under discussion for areas adjacent to the airport.
In 2007, Lawrence businessman Jes Santaularia proposed building a 900-acre business park on property west, south and east of the airport. But that plan soon was reduced to 144 acres, near the intersection of U.S. 24-40 and North Seventh Street.
In his discussions seeking support for the project, Santaularia emphasized the site's excellent connections to transportation: the airport itself, plus the Kansas Turnpike (Interstate 70) and other federal highways. He predicted that the park would generate 1,600 jobs for the community, plus produce $54 million in taxes and other revenue for the community during its first 20 years.
But the plans have yet to take off, with the economic downturn taking hold and elected officials having heard plenty of opposition from neighbors concerned about drainage, potential flooding downstream and the expense of having to extend city services to the property.
But the discussion has prompted the city to study such issues more closely than ever, including it in the conversation for economic development, transportation connections and community conveniences.
It's a welcome advancement for folks like Bryant, who looks forward to the airport becoming an even larger part of the Lawrence area's enviable attractions.
But not too big.
"The first rumor to put to rest is that there will ... be any 747s out there," Bryant said, with a laugh.
There won't be. There's not enough room.
Copyright 2018 The Lawrence Journal-World. All rights reserved. This material may not be published, broadcast, rewritten or redistributed. We strive to uphold our values for every story published.