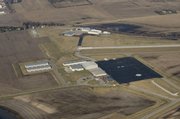 Since its dedication in October 1929, the Lawrence Municipal Airport has played many roles for the Lawrence community.
In honor of its service, the Aviation Advisory Board and several other organizations are throwing an anniversary party Saturday for the airport, and everyone's invited.
"This is an opportunity to showcase what we have out there and to bring the aviation community and the nonaviation community together," said Aviation Advisory Board Chairman Rick Bryant, who is leaving the board after 11 years.
The events begin with a hot air balloon launch at 7 a.m. and a flag drop by remote-controlled airplanes from the RC Model Airplane Club at 8:30 a.m.
Following the flag drop, guests can visit the several displays in various hangars until the next event at 10 a.m.
One display will be a flight simulator from the Kansas University department of aerospace engineering. Bryant said the flight simulator usually has a long line — of both adults and children.
"You can go in there and crash and burn and still walk away and have a good time," he said.
The displays close at 2 p.m.
Wings for Wishes, a fundraiser for the Kansas Chapter of the Make a Wish Foundation by Kansas University's Chi Omega sorority, will also run throughout the day. Fifteen volunteer pilots will fly passengers over Lawrence for 30 minute rides. Flights are $40 per person and will be sold from 8 a.m. to 3 p.m.
Aircraft collector and pilot Steve Craig will offer five rides for the fundraiser in his antique Beech Staggerwing for $120 per ride. The first test flight of a Beech Staggerwing was in 1932. Craig's aircraft is the last built Staggerwing, completed in 1946.
At 11 a.m., children and adults are invited to compete in a paper airplane contest. The contest features two categories — distance and decoration — for both child and adult competitions.
A model airplane demonstration starts at noon, followed by the airport dedication at 1 p.m.
The anniversary celebration ends at 2 p.m. with a flyover by Al Stuber's Red Hawk Squadron.
Pancakes, burgers and sno cones will be provided on-site by Chris Cakes, Back Yard Burgers and Snow Balls. Proceeds from the pancake sale will go to Kansas' Make a Wish Foundation.
Bryant said the celebration is the most complex event he's helped organize in his 11 years on the Aviation Advisory Board.
"We want to recognize the good work people who've come before us have done," he said.
Copyright 2015 The Lawrence Journal-World. All rights reserved. This material may not be published, broadcast, rewritten or redistributed. We strive to uphold our values for every story published.