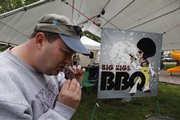 As 48 barbecue teams were hard at work at Saturday's 11th annual Sertoma Barbecue Competition at Broken Arrow Park, members of the public got to sample the end result.
In addition to all the serious judging that went on at the competition, the event's organizers gave the public an opportunity to weigh in on two different meats in their People's Choice competition.
Ryan Lewis and Sarah Hemme took their judging a bit more seriously than some, sitting down after making the rounds among all the available booths to make some collective decisions.
Hemme had surprised Lewis, her boyfriend, for his birthday with a trip to the competition, blindfolding him and taking him to the park.
After tasting the wares of several competitors, Lewis and Hemme agreed that, after a while, eating all that meat can get a little tedious.
"When it's tender, and you don't have to chew as much, you prefer that," Lewis said.
They also indicated a preference on their ballots for teams with creative-sounding names — like "Grilligan's Island."
Official judges — most of whom were sanctioned by the Kansas City Barbecue Society — used some criteria that were a little different.
Jeff Messick, judge coordinator for the competition, pointed out it's not all about what tastes best and who's slathered on the sauce.
Points are awarded on a variety of scales, including taste, appearance and texture. There's a scale for these things, too, he said, with a nine being "excellent" and a two being "inedible," with a one saved for people who are disqualified for violating the rules.
A team from Olathe called Four Men and a Pig took home the competition's grand championship and earned a spot in the American Royal Barbecue competition.
But in the end, most members of the public reported they enjoyed the eating and supporting the local Sertoma organization.
The money raised from the event will go toward the Sertoma-Schiefelbusch Communication Camp, which is for children with communication difficulties.
"For a lot of these kids, it's the only kind of camp they ever go to," Messick said.
Several students in Kansas University's speech-language-hearing department volunteered their time as servers at the competition.
One such student, Clayton Holmes, who will graduate next week, was assigned to hand out samples from Lawrence-based KB Smokehouse. He took his responsibility a little more seriously than most, and enjoyed the meat so much, he felt compelled to put in a little extra effort on behalf of its creators.
"I know you'll remember the taste, so remember the name, KB's Smokehouse," he told virtually everyone who sampled the product.
KB's Smokehouse was competing in the competition for the first time, a team consisting of two women, one a Lawrence firefighter and another who works in facilities operations at KU.
The meat must have been tasty — the team was one of two to be honored as People's Choice award winners.
Copyright 2018 The Lawrence Journal-World. All rights reserved. This material may not be published, broadcast, rewritten or redistributed. We strive to uphold our values for every story published.