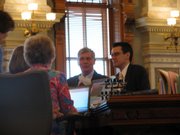 Topeka — The Kansas House is debating a proposed state budget, with aid to public schools a big issue.
House members expected to give first-round approval Monday to a bill containing the budget for fiscal year 2010, which begins July 1.
The bill would cut state aid to public schools almost $26 million, or 0.7 percent.
Other agencies and programs would face larger cuts as part of an effort to prevent a deficit in the fiscal 2010 budget.
But Gov. Kathleen Sebelius and fellow Democrats maintain there's no reason to cut schools when federal stimulus dollars are available.
But leaders of the House's Republican majority argue that if schools don't lose a little of their state aid, other agencies and programs will be hurt even more.
Copyright 2017 The Associated Press. All rights reserved. This material may not be published, broadcast, rewritten or redistributed. We strive to uphold our values for every story published.