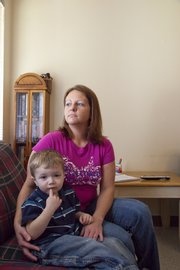 Facts about mold
How to clean up mold if it is contained to a 10-square-foot area: • Make sure any water leak has been stopped. • Use soapy water or ammonia and a scrub brush. Note: Do not use bleach. Experts say bleach only exacerbates the problem. • Thoroughly dry the area. • Test the room again to be sure the mold has been completely removed. • For areas more than 10 square feet, an expert remediator should be called.
Mold complaints
The Lawrence Department of Health reported the following complaints from 2007 and 2008:
2007 Total complaints: 197 Mold complaints: 27 Housing complaints: 17 housing
2008 Total complaints: 244 Mold complaints: 41 Housing complaints: 12
Footnote: Housing complaints mostly consist of issues with mold, according to LDH spokeswoman Lisa Horn.
Contacts
Housing and Credit Counseling, Inc. 785-234-0217
Lawrence-Douglas County Health Department 785-843-3060
Kansas Department of Health and Environment 785-296-1500
Code Enforcement 785-832-3000
EPA www.epa.gov/mold
Patrick Salsbury noticed the dark green mold lining his walls the first day he moved into his Stadium View apartment last August.
After one night in the room, Salsbury and his girlfriend Shelby Lewis, both Kansas University sophomores, woke up with fevers, runny noses and nausea.
Mold grows in humid and poorly ventilated areas. Though mold is often a health hazard, many states, including Kansas, don't have standards regulating mold in buildings or homes. The lack of regulation has made stories like Lewis and Salsbury's more common.
Jerry Collier and fiancé Michele Belcher recently lost their home, 1945 Ky., and health to mold. The couple developed asthma — a condition neither had before — two weeks after moving into the home last August. They've since moved out and are suing their landlord, Alan Vitt, for negligence. Vitt, who declined to comment for this story, has put the house back up for rent.
Jessica Rose, a single mother from Lawrence, said the mold in her Edgewood apartment contributed to the loss of her job and has caused sustained health problems. She said her employer told her that she had too many sick days, which were needed to care for herself and her 3-year-old son, Jaden. She was moved to a different apartment after months of complaints, but is still unemployed, and continues to experience headaches and sinus problems.
Barbara Huppee, executive director of Lawrence Douglas-County Housing Authority, which manages Edgewood Apartments, said the scientific testing of the apartment was negative for mold and that the authority believes it has done its due diligence in this instance.
Last year, 22 percent of all health complaints to the Lawrence Department of Health dealt with mold, according to Lisa Horn, LDH spokeswoman. But the health department, code enforcement and other agencies are powerless when it comes to mold.
Kansas, like most states, doesn't have clear standards that define the rights of tenants and the proper procedure of testing and removing mold.
Although a few states, such as Texas and New York, have guidelines for mold testing and removal, the United States hasn't established federal mold regulations.
Robert Brandys, director of the Indoor Air Quality Association, said the United States is the only industrialized country without a national mold standard.
Mold can be found everywhere in the form of microscopic spores. Once the spores latch onto a surface, they can grow into a multicolored fungus within two days. Exposure to this mold can cause breathing problems and hay-fever-like symptoms.
Lawrence Code Enforcement Manager, Brian Jimenez, said once the spores find the right conditions — moisture, heat and poor ventilation — mold can grow anywhere from the ceiling of a bathroom to the wall behind the couch.
"It's important to know that most houses will have some type of mold somewhere," Jimenez said. "That's just a fact."
Mold is classified as either toxic or non-toxic. And while non-toxic molds, like penicillin, are more common in homes than the toxic species, Greg Crable, an Environmental Protection Agency architect, said all mold should be treated with caution.
"The EPA's position is that mold is something that can cause health problems," Crable said. "It doesn't matter what type of mold you're dealing with."
A section of mold under 10 square feet can be removed without severe reconstruction, said Jeff Goldman, owner of Paul Davis Restoration. Otherwise, he said, a professional company will need to remove the mold. Professional removal can cost anywhere from $2,000 to more than $100,000.
Under Lawrence's Landlord and Tenant Act, landlords have a responsibility "to provide the tenant a safe, habitable place to live that complies with applicable building and housing codes."
But there isn't a code for mold, and proving the home poses a health hazard can be difficult.
To prove the mold has caused a health hazard, the renter can either test the home for mold or get an allergy test. The most accurate mold tests cost between $100 and $400.
Without a mold standard or proof of a health hazard, Jimenez said, code enforcement officers "have their hands tied."
"It's really tough for tenants because they truly believe they are in an environment that is not healthy," he said. "But from a code enforcement viewpoint, there's nothing on the books."
This is especially true if the mold isn't visible. Jimenez said the city code enforcement can respond to a mold complaint only if the mold can be seen. Otherwise, he said, it's "strictly speculation," and the office has no jurisdiction.
Should tenants find themselves in this situation, Robert Baker, Housing and Credit Counseling adviser, stressed the need for documentation.
"If the landlord refuses to fix the problem, since nothing is outlined in strict code, it may come down to what a court decides," Baker said. "And the courts are going to look at who has the best documentation."
He said tenants need to be their own advocates.
"The tenant has to be dedicated to solving the problem," Baker said. "They can't expect to make a call and have someone solve it for them."
Despite making several maintenance requests to First Management, Salsbury, the KU student, still has the mold in his apartment, and a headache he can't shake. Lewis said she continues to regularly miss work and school from illness.
First Management, Salsbury and Lewis' landlord, didn't respond to Lawrence Journal-World questions.
"It's two people against an entire company that's way bigger than us," Lewis said. "There needs to be some kind of living standard without going through hoops to get someone to do something."
Copyright 2018 The Lawrence Journal-World. All rights reserved. This material may not be published, broadcast, rewritten or redistributed. We strive to uphold our values for every story published.