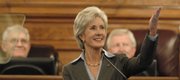 Kathleen Sebelius is the nominee for Secretary of Health and Human Services in Obama's Cabinet. She has served as Kansas' governor since 2002 and before that was insurance commissioner and a state representative.
Joan Fowler credits Health Care Access for helping save her husband's life. Without the clinic's medical staff, the couple probably wouldn't have found out that he had cancer.
"I thank the Lord every day for this," said Fowler, who was visiting the Lawrence clinic Thursday morning because she wasn't feeling well and needed some blood work done.
Nikki King, executive director of Health Care Access, points to Kansas Gov. Kathleen Sebelius for helping direct more money to "safety net" clinics in Kansas. Those clinics provide a place for the uninsured to find free or inexpensive medical treatment.
"I would give her a lot of that credit since she understood the issues from her background," King said. "I think between her recognition of what we do and the formation of the Kansas Health Policy Authority to really put health care under the microscope, it has been a move in the right direction."
With President Barack Obama's nomination last week of Sebelius as secretary of the Department of Health and Human Services, the governor's history of health care reform in Kansas is getting a nationwide review.
More funding to clinics such as Health Care Access is one of the changes Sebelius made.
During the governor's past few years in office, the Lawrence clinic has seen state funding increase by about 30 percent. This year, the clinic received $160,000 from the state, which is an improvement from the years when funding was stagnant, King said.
The increase in state money has corresponded with a 50 percent jump in clients at Health Care Access, King said.
Deauma Clemons was among those benefiting from the clinic's services on Thursday. She was there because of a bad cold. She drops by the clinic only when she really needs medical services.
Until Thursday, she hadn't visited the clinic for two years. At that time, the clinic helped cover X-rays for a bum knee and follow-up physical therapy.
"Thank God for them," Clemons said.
Consumer protection
Across town at a much bigger health care provider — Lawrence Memorial Hospital — Sebelius' health care reform record also has a lingering effect, President and CEO Gene Meyer said.
He points to Sebelius' landmark move as insurance commissioner to block an offer from Anthem Insurance Cos. Inc. to buy Blue Cross-Blue Shield of Kansas for $190 million. The courts backed her opposition.
The fear, Meyer said, was that Anthem, as a for-profit insurance consolidation company, would increase premiums for consumers and decrease reimbursement levels for hospitals and other medical providers.
Stopping the deal also meant that the more colloquial relationship with Blue Cross-Blue Shield of Kansas remained in place, Meyer said.
"Generally there is a name with a face that provides us access to resolve any questions and differences that might occur," Meyer said of Blue Cross' service. "I can't overestimate how important that is to the provider community."
It was an action that helped Sebelius' campaign for governor. In 2003, the same year that Sebelius became governor, Sandy Praeger was elected as state insurance commissioner and inherited the case.
"It was a huge consumer issue. She made the most of it, used it very effectively in her campaign," Praeger said. "It was something people really could relate to."
Children's insurance
When Sara and Jimmy King had their first three children, they didn't have health insurance to cover delivery costs. They also didn't have the money to pay the bills themselves. Those routine medical bills were enough to send the couple into bankruptcy.
For the fourth pregnancy, Sara King said a lack of health care coverage meant she went without prenatal care. Eventually, she ended up at the emergency room in labor and without a doctor.
After the fourth child, the family became eligible for the State Children's Health Insurance Program, which provides coverage for families who make too much money to qualify for Medicare but still can't afford health insurance.
"I know my kids will be taken care of; I don't have to worry as much," King said.
In 2008, the Kansas Legislature passed a bill that would expand SCHIP to include families that make up to 225 percent of the poverty level this year, and 250 percent in 2010. It was previously set at 200 percent. The move will provide health care coverage to 8,000 more children in Kansas.
Corrie Edwards, executive director of the Kansas Health Consumer Coalition, said Sebelius helped move the bill along.
"As sad as it sounds, it really was the only piece of health reform that people could agree upon last year," Edwards said.
Hits and misses
Another health care initiative under Sebelius was the 2005 formation of the Kansas Health Policy Authority, which has sent along recommendations to the Legislature and oversees state-funded health insurance programs.
The first of its kind in the country, it provides a "important statewide dialogue" on health care, LMH's Meyer said.
As insurance commissioner, Sebelius also focused on consumer protection, Praeger said. When Praeger was in the state Senate, the two worked on patient protection legislation providing a continuity of care if a company changed health plans. For instance, a woman could stay with her doctor through her pregnancy even if her company changed health care providers.
Not everything on Sebelius' health care agenda has become reality.
As insurance commissioner and again as governor, Sebelius pushed to require health insurance companies to cover birth control. That has never passed through the Legislature.
Political pundits have noted that as HHS secretary, Sebelius would be aligned with a Democratic Congress. That could make implementing some of her health care initiatives easier than while she was a Democratic governor facing a Republican House and Senate.
"She's got a real contentious relationship with the Legislature and I have got to give her credit for just always toeing the line," Edwards, of the Kansas Health Consumer Coalition, said. "She is a strong believer in that all people should have health care. And, I think she is going to take that with her."
Copyright 2018 The Lawrence Journal-World. All rights reserved. This material may not be published, broadcast, rewritten or redistributed. We strive to uphold our values for every story published.