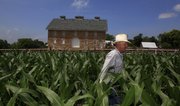 As the daily temperature in Douglas County edges higher, area farmers are becoming optimistic about this year's corn and wheat crops.
"It's growing at a rapid rate, and it loves the heat and humidity," Charles Taylor said about his family's corn crop northwest of Lawrence.
Taylor's family has owned Taylor Farms for decades, and Harold, David and Leslie Guenther run the farming operation.
Taylor said the corn crop in the northern part of the county had a difficult time getting started growing because of spring rains. The weather pushed corn planting later than normal, but the crop has made a decent comeback.
Barring a devastating storm or other major events, he expects a decent fall corn harvest.
"Most farmers are total optimists," Taylor said. "At this point everything looks fine. We'll see what happens down the road."
Other farmers said the wheat crop has benefited from cooler weather lately and spring rainfall.
"It looks a whole lot better than it has for the past two years. We're sure expecting average or above-average yields on that," said Pat Ross, of Ross-Nunemaker Farms northeast of Lawrence.
He expects Douglas County farmers to start cutting wheat by the end of the week.
Earlier this week, the Kansas Agricultural Statistics Service estimated that 9 percent of the Kansas wheat crop is now ripe for harvest. The state's wheat condition is rated as 7 percent excellent, 42 percent good, 32 percent fair, 14 percent poor and 5 percent very poor.
As the first day of summer approaches, Ross said he is approaching the warmer period with caution.
"You've got to be careful what you wish for, I guess, but ideally we'd like to have 10 days of dry weather here at least," Ross said.
Copyright 2018 The Lawrence Journal-World. All rights reserved. This material may not be published, broadcast, rewritten or redistributed. We strive to uphold our values for every story published.