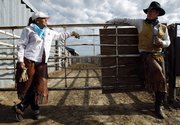 Pratt — Beth Mertens' weathered hands held the reins of the horse she was riding.
The morning's work was ahead of her, helping to move semi-loads of cattle from the trailers to the pens outside the Pratt Livestock Auction.
Mertens is just another pen rider. But she stands out amid the men and the muck, her head covered in a pink ball cap, with a long ponytail tied at the back.
Dressed in blue jeans, knee-high boots and chinks, which are shorter than chaps but still protect legs from dirt and brush, this 56-year-old woman wears the telltale sign of a life spent in the elements.
But her eyes twinkle as she smiles, insisting she is doing what she loves. "We're making a living," she said, laughing. "But we're not making money."
"We're broke and happy," chimed in her husband, Tim Mertens, who rides the pens alongside his wife.
It's not about the money, she said — the cowgirl way is Mertens' way. Never mind the 12-hour days vaccinating, branding and deworming bucking calves. She hopes to be pen riding for a couple decades more.
At their rural home nine miles northwest of Zenith, they have horses and cattle. Then every Thursday for the past 15 years, the couple arrives early at the Pratt Livestock Auction, riding the pens.
"No matter what, you have to be at the sale," she said of the job, despite the weather. "You work in the cold, the dust, the rain."
The job description calls for understanding cattle and knowing how to handle them, said Jake Lewis, general manager of the Pratt Livestock Auction. While there is a part-time younger woman, Mertens is the only woman the auction depends on regularly to ride the pens on sale day.
The west has always intrigued Mertens, who briefly attended Colorado College, where she majored in art. From there, she became involved with the rodeo circuit, barrel racing and bull riding. She supplemented her income working in a western clothing store, among other work. And she also worked as a western clothing model.
But she has always been most comfortable on a horse.
"I can ride all day and not get tired," she said. "Then I go home and just doing little house stuff I get tired. I'm not as cranky or tired after working cattle all day. I feel healthier."
Copyright 2018 The Lawrence Journal-World. All rights reserved. This material may not be published, broadcast, rewritten or redistributed. We strive to uphold our values for every story published.