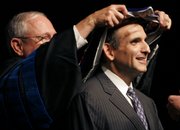 Fort Leavenworth — Nations in Central and South America are stepping up their responses to challenges like immigration and drug trafficking, President Barack Obama's nominee for the top U.S. diplomatic post in Mexico said Friday.
Carlos Pascual, who was formally nominated for the post last week, said the United States needs to work with Latin American countries on economic, energy and security issues because it has a stake in the outcome.
"Increasingly, the countries of the hemisphere have been recognizing that they have to contend with these issues," Pascual said after addressing military officers at the Army's Command and General Staff College.
In speaking to nearly 1,000 officers graduating from the college, Pascual said that the United States can strengthen its national security by striving to end poverty in the world. He noted that the Sept. 11, attacks were orchestrated in Afghanistan, one of the poorest in the world, where many of the officers will be heading later this year.
"The scale of international challenges are greater than we have ever known," he said. "It is not for our military to solve all these problems," but to work in concert with civilian agencies to help support sustainable nations.
Pascual, who still must be confirmed by the Senate, declined to answer questions about U.S. policy toward Mexico. The nation is in the midst of a violent drug war that has killed more than 10,800 people since a crackdown began in 2006. The government has deployed about 45,000 soldiers throughout the country to fight the cartels. Mexico is also the epicenter of the world swine flu pandemic, which has sickened tens of thousands of people around the globe.
Many of Pascual's comments were directed toward energy and how nations will develop new sources to reduce the reliance on carbon fuels. Previously the ambassador to Ukraine, Pascual has been with the foreign policy program of the Brookings Institute since 2006 and started its Energy Security Initiative, focused on development of energy security policy for the decade.
Copyright 2018 The Associated Press. All rights reserved. This material may not be published, broadcast, rewritten or redistributed. We strive to uphold our values for every story published.