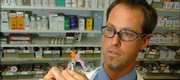 An outbreak of H1N1 Swine Flu was reported in Mexico in April 2009. By the end of May, it had spread across the U.S., with all 50 states reporting cases.
El Dorado — Butler County's first case of swine flu has been identified, bringing the state's total confirmed cases to 98.
The Kansas Department of Health and Environment announced the newest case Thursday. Officials confirmed that the H1N1 virus was found in an adult, but no other details have been released.
The Health Department says the swine flu's symptoms are similar to the symptoms of seasonal flu. KDHE has stopped testing for swine flu in several counties where confirmed cases already exist.
Copyright 2017 The Lawrence Journal-World. All rights reserved. This material may not be published, broadcast, rewritten or redistributed. We strive to uphold our values for every story published.