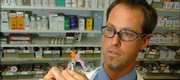 An outbreak of H1N1 Swine Flu was reported in Mexico in April 2009. By the end of May, it had spread across the U.S., with all 50 states reporting cases.
Topeka — Kansas health officials aren't surprised that swine flu has been declared a pandemic.
Jason Eberhart-Phillips, the state health director, said the World Health Organization action Thursday is an important reminder the flu is still around. The global organization said since it was first detected in late April in Mexico and the United States, swine flu has reached 74 countries, infecting nearly 29,000 people.
Kansas has 98 reported swine flu cases in 16 counties. Geary County has the most cases with 25 reported, followed by Riley County with 23. Most of the cases have been mild.
The decision confirms that the first flu pandemic in more than 40 years is under way in at least two continents.
Copyright 2018 The Associated Press. All rights reserved. This material may not be published, broadcast, rewritten or redistributed. We strive to uphold our values for every story published.