Photo Gallery
Shoppers out in force at Downtown Sidewalk Sale
Photo Gallery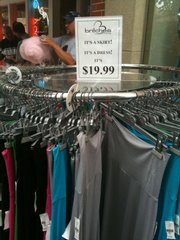 Bargains found at the Sidewalk Sale
Past Event
When: Thursday, July 16, 2009, 5 a.m. to 9 p.m.
Where: Downtown Lawrence, Lawrence
Cost: Free
-->
-->
-->
5:20 p.m. Final score: Shaun the Intern: 1, Sidewalk Sale: 1
I'm calling the great sidewalk sale battle of 2009 — that is, me versus the sidewalk sale beast — a draw. Round one clearly went to the beast, but we know it's an early morning creature who does its best work in the wee hours. An intern stands little chance at 5 a.m. The beast clearly surprised me and devoured me as I struggled with learning to twitter, to use the video camera, and to shop; basically, my three simple assignments.
But as the sun rose, the beast lost strength. I began twittering like a wild man. I found two guys selling hugs. I shook some skull-headed maracas. Someone in a penguin outfit waved at me. I found bargain sari's.
Round two went to the intern.
I hesitate, however, to declare a winner in the battle.
As the sidewalk sale shoppers retreated to lunch, I retreated to the office, then home for a nap. Around 3 p.m., the beast appeared to retreat as well, as the streets emptied some. Neither I nor the beast appeared to have a round three in us.
But, in the end, I bargain shopped, blogged, and twittered my heart out. And, as of 5:02 p.m., I have not been fired. So I survived.
The beast did, too, and it will live another year.
In 2010, some other lucky intern will be sent out with a video camera and an assignment to do whatever it is the online world has deemed important. Will it be a vlog, vittering (video twittering? I just made that up, I think), or some other up-to-the minute creation?
Who knows. Regardless, the beast will be ready and another year stronger.
— Shaun Hittle
5:12 p.m. Some business owners are saying the crowds were a little thinner for this year's Sidewalk Sale.
"Usually at 6 a.m., it's 25, 30 people in the store, and there were five this year," The Sports Dome's Brian Hoffman said. "Just the number of people are down. Usually it's just packed."
2:26 p.m. When you went to the Downtown Lawrence Sidewalk Sale, you probably set a budget, whether it was $20 or $100.
But sticking to that budget can be tough when there are so many good bargains out there.
Maria Carvajal set her budget at $50 when she started her shopping trip at 7 a.m. At 11 a.m., she was re-evaluating the amount she was going to spend.
"I'm getting close," Carvajal said of her $50 limit. With hours left to shop, she said going over the budget was likely.
Experienced sidewalk shopper Paul Boone, however, said he didn't need a budget. He's been coming to the sidewalk sale in Lawrence for 15 years, and he sticks to the dollar items, such as the $1 long underwear shirt he bought at Sunflower Outdoor and Bike Shop, 802 Mass.
Second-year sidewalk sale shopper Jade O'Connell could have used some of Boone's dollar-purchase wisdom. O'Connell planned to spend $60, but spent over $100 at one store alone: Urban Outfitters, 1013 Mass. Her daily amount was around $150, she said.
O'Connell thought about continuing her shopping spree, but she said she knew better.
"I should've gone back to my car," she said.
— Shaun Hittle
2:14 p.m. Well, I went out for round #3. There was some rain and a few vendors packed up some of their wares in boxes to wait out the sprinkles.
I hear it's supposed to rain on and off for most of the day, but it seems like most of the shoppers were out early.The streets definitely aren't as busy as they were earlier this morning. Some women I chatted with said they didn't mind the rain because it was much cooler than last year and the worst that could happen would be a little hair frizz.
Now that I'm on a roll, I stopped by Envy and found plain v-neck t-shirts for just under $7. I'm big on closet essentials that are timeless. I also ventured out of my normal color scheme (mainly black, gray and white) and bought a lilac colored tee. Granted, purple is a Kansas State color, but it also happens to be the color of my alma mater. They also have two pairs of flip flops for $5.
I'm probably done heading out to the sale for the day, but it was a pretty good day of shopping. Let's recap.
I bought a KU National Championship tee for $5 at Sports Dome, a $16 pair of jeans at The Gap and two $2 DVDs at Game Nut. That's the $25 that I got from the boss man.
On my own dime, I bought a pair of gray dress pants for $4 from The Gap (helped out by a $10 coupon) and two v-neck t-shirts for $7 each from Envy.
My tendinitis is flaring (yay for practically flat feet and old dance injuries) but all in all it was a quality day for shopping.
— Lindsey Slater
1:48 p.m. Many sidewalk shoppers can recognize a good deal when they see one. There's a rough estimate of how much, say, a T-shirt costs. $15, maybe?
But for some of the more unusual items at today's sidewalk sale, it's a little more difficult.
For instance, how much should a plaster rooster cost? Or a Santa Claus salt and pepper shaker?
A few of those more difficult-to-price items can be found at the Winfield House, 835 Mass. Store employee Linda Campbell was making a hard sell for the value of softball-size decorative balls.
"For adding some color," said Campbell of the purple and blue odd-looking pieces. They're a conversation piece, she said.
Over at Blackbird Trading Post, 8 w. 9th St., store owner Cynthia Trask explains the value in some unusual items, such as a black and white, cow-pattern painted, headless mannequin, for $10.
Trask says the mannequin might make a good art project. She also makes a good pitch for a set of skull-headed maracas, which are probably on no one's sidewalk sale shopping list.
"When was the last time you saw skull maracas?" she asks.
— Shaun Hittle
12:56 p.m. Opportunities are plentiful for not just businesses, but entrepreneurs as well at the sidewalk sale today.
Some play instruments, sell balloon animals, or snow cones. High school students Dakota Summers and Jake Frydman sell hugs for a dollar.
In less than 30 minutes downtown today, the body-squeezing duo say they've sold 15 of what they describe as "Deluxe hugs." Why would anyone pay a dollar for a hug?
"You can't get these hugs anywhere else on the planet," claims Summers.
The special features included in their deluxe hugs include a back pat, rocking back and forth, and even a lift-off if requested.
Lawrence resident Linda Sturgeon paid for one of the hugs, and she wasn't disappointed.
"I haven't had a hug like that in years. A lot better than my husband's," she said.
— Shaun HIttle
12:36 p.m. A downtown filled with shoppers with open wallets equals a bump for some of the area's panhandlers.
Thomas Ludwig said he doesn't panhandle very often downtown, and prefers finding day labor work when it's available. But, there wasn't any work today, so he's spending part of the day downtown holding a sign that says "Laid off. Can you help?"
Ludwig said that he's made a few dollars today. Not a lot, but more than usual, he said.
Down on the corner of Ninth and Massachusetts streets, Nathan Ledford, who says he panhandles frequently downtown, has made about $5 since coming out around 9 a.m. Not exactly a windfall, but still better than the typical day downtown.
"I thought I'd be making more ... but I've made more than usual," he said.
— Shaun Hittle
11:38 a.m. So, round two was MUCH more successful. In fact, my $25 is gone. Done. Finitio. Here's what I ended up with – a KU National Championship T-shirt from Sports Dome ($5), a pair of jeans from The Gap ($16) and two DVDs from Game Nut ($2 each, but not in cases). And not some low-budget flicks. "Crash" and "Wall Street."
On my own dime, I found dress pants at The Gap and, thanks to a $10 coupon, I got them for $4. Can you believe that? Slate gray dress pants. Phenomenal. My mother, the bargain hunting queen herself, will be so proud.
The crowds seem to be picking up a little bit, probably thanks to the clock closing in on the lunch time hour. The weather is very pleasant and even the humidity is keeping itself under control. I'll be heading out for one more sweep – but unfortunately, that will be coming out of my very own wallet. (But much thanks to managing editor Dennis Anderson for trusting me to spend $25 wisely.)
The Sunflower Bike Shop dude in the lifeguard chair, Wade, is back again this year. He and his megaphone are keeping shoppers abreast of the Tour de France and the deals over there. There's also some quality food deals – including a $4 sausage sandwich over at Genovese. (I had to keep my photographer from eating lunch at 9 a.m. this morning, but I have no doubts he'll be heading down that way this afternoon.)
I'm going to be staying inside for a while to put together some video and my story for the 6 p.m. news tonight on Channel 6, where you can see all my purchases live.
I'll be out again for my third and final round this afternoon.
— Lindsey Slater
11:03 a.m. While the Downtown Lawrence Sidewalk Sale is good business for downtown stores, it's also an opportunity for area non-profits to get the word out and raise money.
On the corner of Ninth and Massachusetts streets, representatives from the Casa4CASA playhouse were offering shoppers a chance to win the annual playhouse.
With shoppers opening their wallets a lot during the day, non-profits are hoping the shoppers will keep them open for a good cause, said Douglas County CASA board member Mary Boatright.
"Every dollar helps," she said.
— Shaun Hittle
10:10 a.m. Okay, I'm back from round one. I've decided that I'm a terrible shopper.
I bought a $5 National Championship T-shirt from Sports Dome. That's it. What? I know. Talk about not fitting in gender stereotypes.
In talking with Brian Hoffman, the owner of Sports Dome, it seems like there's less foot traffic than in past years. It definitely doesn't seem as crowded compared to my experiences last year.
I still have $20 to spend! It's time for round two, but here are some places I've noticed with great deals — Sports Dome (all KU gear is 50% off), Urban Outfitters (but there was about a 45 minute wait in line), Kieu's (I found some $0.50 earrings and $1 bracelets, but the line was long so I'll probably be going back there. Oh! And $4 shoes!) and anything outside the antique mall is super cheap.
Luckily, it's not super hot today, but make sure to stop by the Lawrence Marketplace booth to see all the #swsale tweets, grab a bottle of water and a balloon!
I've got $20 left. Let's see what I can find.
— Lindsey Slater
9:42 a.m. So how early is too early to start your day at the Downtown Lawrence Sidewalk Sale?
Shopping was in full swing by 6 a.m., and merchants and shoppers reported early risers on the streets as soon as 5 a.m.
That's when Lawrence residents Michelle Stockwell and Leah Towle started their annual shopping adventure. The early start was worth it, they said.
"We got the deals," said Stockwell carrying a shopping bag full of dollar jewelry from the Antique Mall, 830 Mass.
But the early start doesn't mean they'll end their shopping early. Stockwell and Towle said they plan to take a break for rehearsal of a play they're performing in, then return until about 10 p.m.
— Shaun HIttle
9:17 a.m. Our .comrades at Lawrence.com have an awesome guide to some of the best buys you can find right now. Check out what they found in their early a.m. shopping trip.
9:12 a.m. More photos by Mike Yoder, as well as some by Travis Cline, have been posted. If you can't get out to the sidewalk sale, make sure to check them out in our photogallery.
9:08 a.m. Sidewalk sale: 1, Shaun the intern: 0
The beast that is the annual Downtown Lawrence Sidewalk Sale swallowed me whole early this morning.
I didn't see the beast coming as I headed out at 5:30 a.m. with my video camera and notebook. The sales were already in full swing, and apparently had been going since about 5 a.m.
As I bargain hunted around downtown, the shoppers were helpful and friendly and assisted this clueless shopper in identifying the best deals: $5 bargain bins at Third Planet, $1 items at the Antique Mall, ridiculous deals at Urban Outfitters, $4 Jayhawk shorts at Jayhawk Spirit, and free chair massages in front of the Replay.
With my early morning sidewalk shift ending, I had everything I needed. Interesting quotes from people who hadn't slept the night before in preparation, families who had been coming downtown for the sidewalk sales for decades, and those not shopping but simply enjoying the atmosphere and meeting with friends.
I felt pretty good. I would go back to the office — and despite not feeling qualified as a shopper, early morning riser, or a twitterer — hand over the video tape of my work that could be edited into a colorful picture of the sidewalk sale.
But on my route back to the office, the beast reared its ugly head. The intern, in my twittering, bargain-hunting fury, had forgot to turn the camera's audio on. The names, bargains, and colorful quotes gone. All I had was a lot of silent footage, which to my bosses would basically mean I had nothing.
So round one goes to the sidewalk sale. Will my defeat be enough to keep me from my second shift at the sales starting at 10 a.m.? Probably not. (Editor's Note: It's not.)
I'll lick my wounds and head back out here in a few. Thanks for those who helped, I'll need a lot more of it soon.
— Shaun Hittle
8:18 a.m. Okay, so I have a confession.
No, I'm not a shop-a-holic. I'm a very no nonsense, wham-bam-thank-you-ma'am type of shopper. I go when I need something, go in, get it and buy it. I usually don't even have to try anything on. But on this day, the day of Lawrence's Sidewalk Sale, I will shop. The powers that be have given me $25 to get whatever I want.
I'm going to try and find things that I actually will use and not just knick-knacks (I already have plenty of those. Just ask my bookshelf in my apartment).
This is my second year covering this bad boy of an event and I'm actually pretty excited. I'll be tweeting along the way, so follow along as I try and spend $25 the best way I can.
— Lindsey Slater
8:07 a.m. 6News Meteorologist Alex Harrington says we could be looking at some storms in the area between noon and 9 p.m. Could make for a wet stretch run through the sidewalk sale.
Better bring your umbrella!
— Jonathan Kealing
6 a.m. Sometimes the reporting interns at LJWorld.com get asked to do things they don't like to do.
And today, the powers that be have asked me to do three of my least favorite things for the annual Downtown Sidewalk Sale: get up early, shop, and tweet.
I am up at 5 a.m. today in preparation for my assigned task of roaming through the bargain,s looking for something to buy while constantly tweeting, blogging and filming my experience.
I tried to warn the editors.
They look at me as a 20-something who should be fluent in the online world. I told them I simply wasn't. They thought I was joking when I expressed my surprise that you can actually send tweets from your phone. It was clear I wasn't kidding when online editor Jonathan Kealing spent 20 minutes showing me how.
Shopping is a last resort for me, not a hobby or a relaxing activity. I don't spend my free time looking for the newest gadget or trendiest clothes. It's just something I have to do sometimes.
Sort of like this assignment. But, I'm going to buck up and find some bargains and I'll be chronicling my adventure in as many tweets and entries here as are required. Make sure you're coming back often.
Personally, though, I wouldn't know a bargain if it smacked me in the face. So I'm challenging the shoppers and merchants out there to help me find some bargains ... If you see a clueless guy in a tie wandering around downtown today, lend a hand!
— Shaun HIttle
Copyright 2018 The Lawrence Journal-World. All rights reserved. This material may not be published, broadcast, rewritten or redistributed. We strive to uphold our values for every story published.