Photo Gallery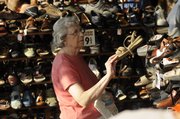 Scenes from the Lawrence Sidewalk Sale
On the street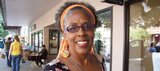 Yes, very much so. I usually just come in the afternoon when it's cooler.
When Toni Dudley, Lawrence, started her most recent job 14 years ago, she had two requests.
She wanted two weeks of vacation and the morning of Lawrence's annual Downtown Sidewalk Sale off.
And once again, she took advantage of the morning off.
By 9 a.m. Thursday, after two hours of shopping, she had consolidated her finds from several downtown stores into four big bags. Dropping them off at her car, she was ready for more shopping.
"I try to go places that are normally pricey," she said of her strategy. "Everything I didn't know I needed. Totally gratuitous."
Dudley's dedication to seeking bargains was mirrored by thousands of others who descended in downtown Lawrence. Many rose before dawn to snag the best items at the lowest prices.
Dan Hughes, owner of Sunflower Outdoor & Bike Shop, said shoppers were lined up outside his business at 4:30 a.m. The store opened at 5:05 a.m. and business was brisk by 7 a.m., he said.
"Dollar-wise, Sunflower's on track to match last year, which was a record year for us," Hughes said.
Other stores also reported booming business.
"I think the crowds are better this year than they have been in the last two, three years," said Earl Reineman, vice president of Weaver's Department Store, 901 Mass.
Kasey Harrington, an employee at Persephone's Journey, 1103 Mass., said by 1 p.m., her store has surpassed its intake from the 2007 sale.
"It's been better this year than last year," Harrington said. "Everyone stopped at 11th last year and didn't come down here."
Stores located just off the beaten path - Massachusetts Street - were doing what they could to cash in on the Sidewalk Sale frenzy.
Lisa Stockton and Heidi Raak, co-owners of the Raven Bookstore, 6 E. Seventh St., had a twofold strategy. First, they continued a long-standing deal the previous owners had with Liberty Hall, 644 Mass., to set up shop in front of the venue.
"Liberty Hall is really cool about letting us be in front of their space," Stockton said.
There they sold bargain paperbacks to eager customers.
Secondly, they added an in-store discount of 12 percent off everything on the shelves and also set up a $1 book cart out front.
"People did come in because of it," Raak said of the 12 percent sale.
Hughes, also president of Downtown Lawrence Inc., said he estimated the crowd was similar to last year's estimate of 20,000. Without a clicker, he said it's really hard to tell.
One thing he did know, as the sale started winding down, was that he was worn out.
"I am really excited and simultaneously really tired, so it's kind of a strange way to be," he said.
Copyright 2018 The Lawrence Journal-World. All rights reserved. This material may not be published, broadcast, rewritten or redistributed. We strive to uphold our values for every story published.